'Lay The Favorite' Trailer - Bruce Willis And Rebecca Hall Try To Get Lucky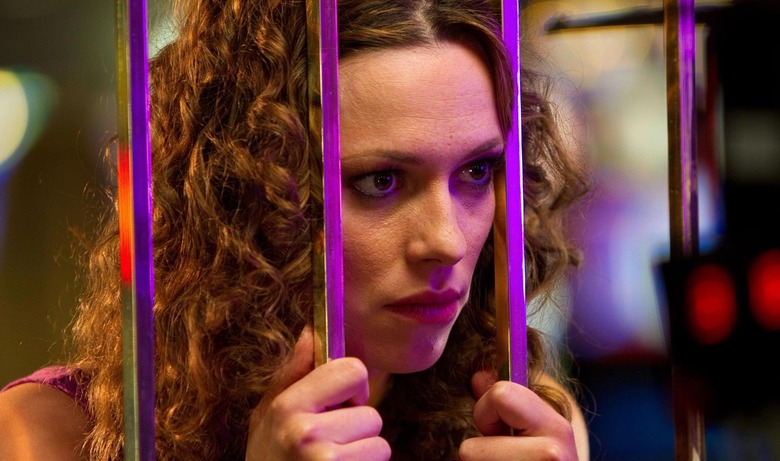 Stephen Frears' record may not be flawless, but his hit to miss ratio's high enough that I generally look forward to his movies. His newest project, Lay the Favorite, started out looking as promising as any other. The filmmaker collected a likable cast, including Bruce Willis, Rebecca Hall, Joshua Jackson, and Catherine Zeta-Jones for the dramedy, an adaptation of a favorably reviewed memoir by Beth Raymer about the strange world of sports betting.
Unfortunately, early reviews suggest that the result hasn't lived up to that promise at all. The new trailer offers some hints as to what exactly went wrong, starting with a strangely off-putting performance by the usually charming Hall. Check it out after the jump.
[via Hey U Guys]
I tend to like Hall, but she seems glaringly out of her element as the ditzy, over-energetic Beth. It's so bad, it almost feels like Hall's starring in one super broad comedy and the rest of the cast is starring in a different, more grounded movie. What a waste of this cast, especially since Willis looks like he turns in a nicely subdued performance here.
Then there's the fact that, well, I don't know about you, but this trailer didn't actually make that much sense to me. Or maybe I was just too uninterested to pay it the proper attention. The reviews out of Sundance mostly agreed that Lay the Favorite was just plain boring. The Film Stage called it "excruciatingly dull," while The Playlist found it to be "an empty bet." Lay the Favorite is due to hit the U.S. sometime this fall, but I think I'll steer clear.
Here's the synopsis, if you were as confused by what was going on in the trailer as I was:
Beth Raymer is a beautiful girl with a big heart who leaves her dancing job at a Florida strip club to become a Las Vegas cocktail waitress. Not exactly an ideal career choice, but her borderline-ditzy personality doesn't give her many options. In walks Dink, a professional sports bettor who sees through her bubbly exterior and offers her a job placing wagers all over town to gain an advantage over the casinos. Her surprisingly impeccable mind for numbers soon cements her status as Dink's good-luck charm, until his gorgeous-but-frigid wife, Tulip, starts to get jealous. Faced with no other choice but to fire Beth, Dink's luck runs out when she heads to New York to work for a smarmy bookie, a turn of events that lands her squarely on the wrong side of the law.