TV Bits: 'Dexter' Teaser, 'Weeds' Posters, 'Fringe', 'Community', 'Cougar Town'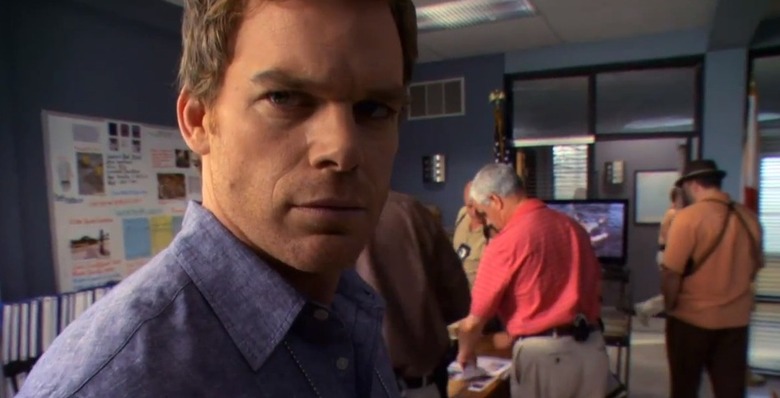 Today's TV Bits looks ahead to this fall or later, when we'll get new episodes of Community, Dexter, Cougar Town, and Fringe. After the jump:
Dexter's seventh season gets a 15-second teaser
Weeds unveils five new posters for Season 8
Where — or rather when — will Fringe go for Season 5?
Community writer Megan Ganz will stick around
Cougar Town gets a new showrunner for its move to TBS
It's not much to go on, but it is effectively, intriguingly creepy. Dexter will return Sunday, September 30. [Screen Crush]
Meanwhile, the network has also revealed five new posters for Weeds, which heads into its eight season this summer. The promos refer back to the big cliffhanger that ended Season 7, in which (spoiler alert) a mysterious gunman took aim at one of the central characters.
Weeds kicks off Sunday, July 1. [E!, Screen Crush]
The end of Fringe's fourth season left a lot of questions about just where the fifth season might be headed, and while the cast and crew are loath to give too much away at this point, executive producers Jeff Pinkman and Joel Wyman have dropped a few hints about when we might find ourselves next season. The pair confirm that yes, we'll be spending more time in the 2036 timeline seen in the season 4 episode "Letters of Transit":
Yeah, I think it's safe to say you will [see that future]. Part of our storytelling is about reveals and re-contextualizing what you think you know and what you've seen and putting it in a different mind frame for the viewer. It's good to say that future is important to our storytelling but it's not the be-all and end-all.
The critical question is always why do we do flashbacks or flash-forwards and for us there is always a reason. Does "Letters Of Transit" have further implications? It does. You need to understand what it is, or was, in order to fully grasp the thematic things we want to tell this year.
Fringe's fifth and last season will consist of 13 episodes. [Screen Crush]
There's no question that Community just won't be the same without showrunner/creator Dan Harmon, but that doesn't necessarily mean that the Harmon-free next season will be completely devoid of the charm that carried it through its first three seasons. One encouraging sign is the return of writer Megan Ganz, who was behind some of the series' most memorable episodes including "Cooperative Calligraphy," "Intermediate Documentary Filmmaking," "Documentary Filmmaking: Redux," and "Basic Lupine Urology."
Ganz announced her status via Twitter. "I am Deanlighted to announce I am returning to COMMUNITY for season 4. Cool cool very cool," she wrote. While Ganz' remaining on board certainly can't make up for Harmon's departure, it's still nice to hear that the series will be keeping one of its most talented writers. [Screen Crush]
And speaking of staff shakeups... As Abed's beloved Cougar Town moves from ABC to TBS, the comedy is hiring a new showrunner. Ric Swartzlander will take over the position previously occupied by series co-creator Bill Lawrence, who is leaving to focus on his development deal with Warner Bros. Television. Swartzlander's previous credits include writing and/or producing episodes of Gary Unmarried, Samantha Who, and Man Up. [Deadline]