Superhero Bits: Iron Man 3, The Dark Knight Rises, The Avengers, Hulk, Amazing Spider-Man, Pixar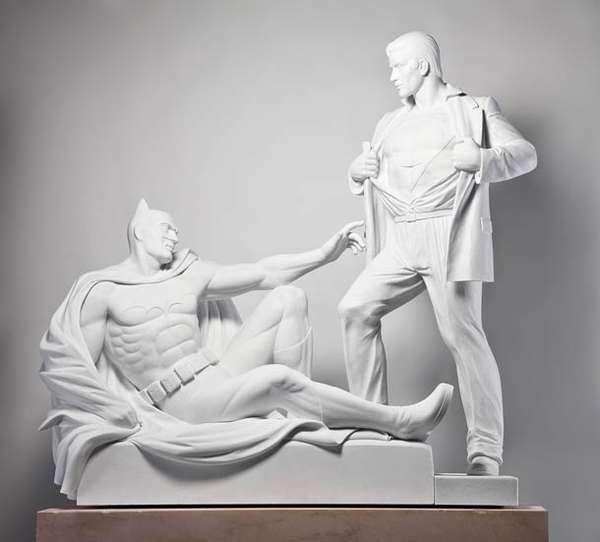 We may receive a commission on purchases made from links.
Will the Iron Man movies ever deal with Tony Stark's alcoholism? What does the Hulk's muscle structure look like? Has someone designed great looking Avengers dresses? How does Kevin Feige describe Iron Man 3? Want to see a wall of the DC Comics offices? Where can you get a leather jacket from The Avengers? What do Batman and Superman have to do with Michaelangelo and has Nokia released an official image of their Dark Knight Rises phone? Read about all this and more in today's Superhero Bits.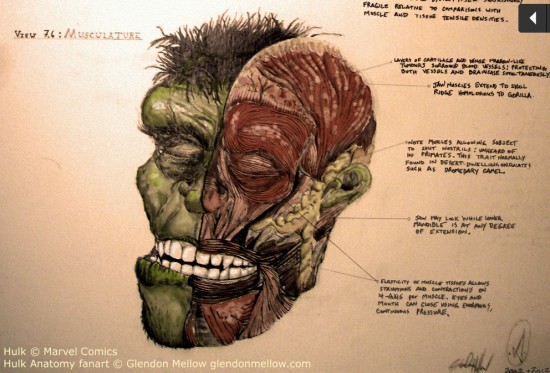 This is rad. Scientific American (via IO9) has posted some Hulk anatomy drawings by Glendon Mellow.
In Empire (via CBM), Kevin Feige made it sound like Tony Stark's alcoholism won't be an issue in the Iron Man movies:
He's not an alcoholic in the movies. Maybe one day that's a deeper story, but we're not going to do it unless we can make it a full-focused plot.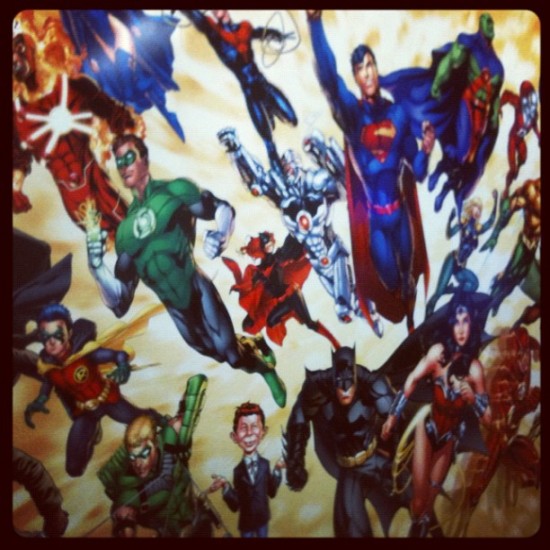 Bleeding Cool found this Instagram from the DC Comics offices in Burbank, CA.Empire has an interesting quote from Christian Bale about Batman appearing in more daylight scenes in The Dark Knight Rises:
It was very strange to start with. We had the idea of intimidation and the mystery being successful in the dark. And so it did feel odd to be outside quite so much. But obviously I got used to that. We kinda mad a deal right when we first made Batman Begins; me and Chris said, 'Let's just not let people see Batman half-dressed. It's just not a good idea.' Batman should be Batman and that's it. He should always be defined and complete and let's not ruin that experience for people.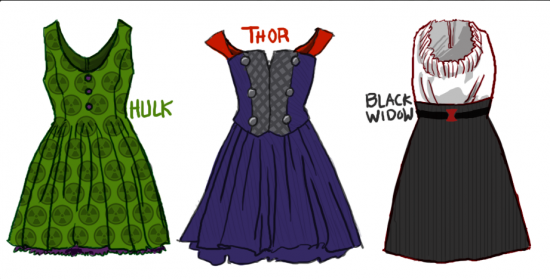 Robinade (via IO9) designed a bunch of dresses inspired by The Avengers. Above is just a sample.What Culture posted an article that says the success of The Avengers proves comics themselves are failing.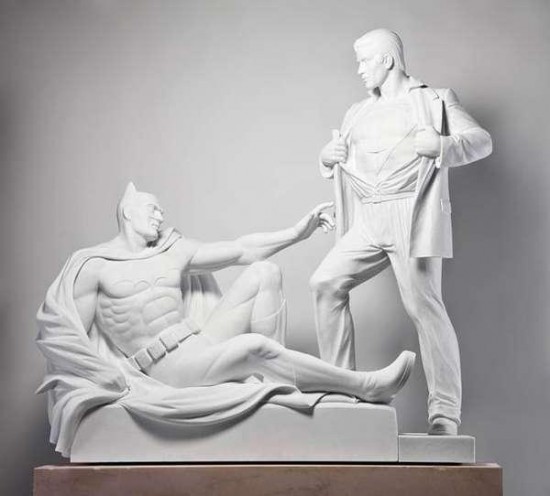 Mauro Perucchetti's Batman and Superman sculpture channels a little Michaelangelo. Thanks to Trend Hunter via CBM.
More Kevin Feige. He described Iron Man 3 as follows to Empire:
 We don't equate bigger with better. It's Tony's most personal journey since he was trapped in a cave in the first half of the first movie, but it'll also have the largest spectacle of any of the Iron Man movies.
Due to the amount of graphics and images included in Superhero Bits, we have to split this post over TWO pages. Click the link above to continue to the second page of Superhero Bits.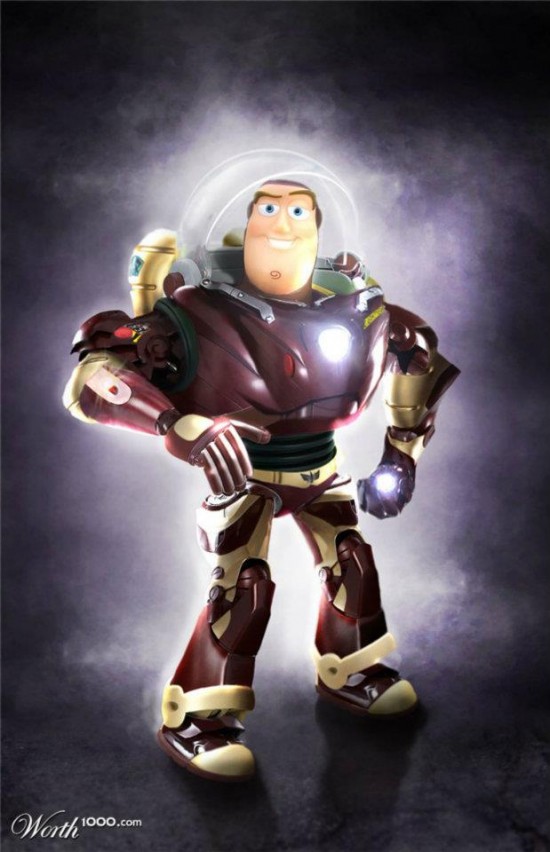 Blending Pixar and Marvel is a new meme and Werth 1000's work on Disney and More is some of the best. Head there for more.
Remember Monday's body paint superheroes? Bleeding Cool reports those girls were banned from the convention.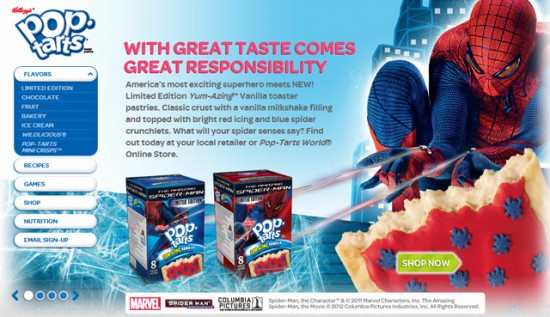 Amazing Spider-Man Pop Tarts have blue spiders on them. Read more at Laughing Squid.
Even more Feige! He says a Hulk movie (or something) is likely coming (via CBM):
 We will see the Ruffalo Hulk in future. I don't know when or how, exactly, but he's an interesting character, and so many new avenues have opened up. But now in the movies, who's gonna pop up where? You're never quite sure.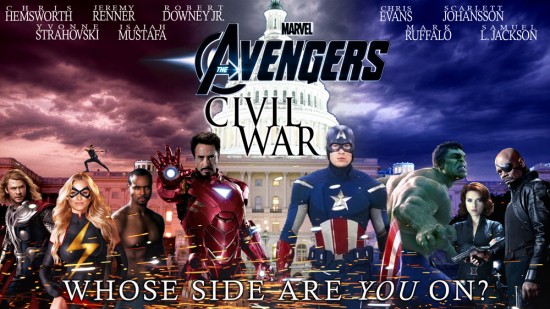 /Film reader Bryan S made this wishful thinking photoshop on his Tumblr.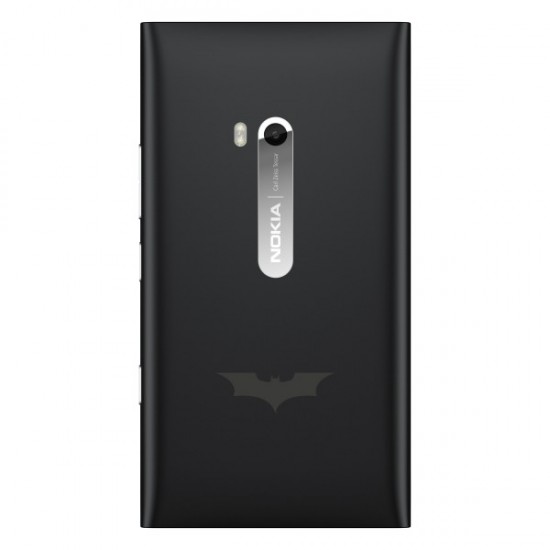 We posted a video of this Nokia Dark Knight Rises phone several months ago but Collider saw Nokia tweet out this official image.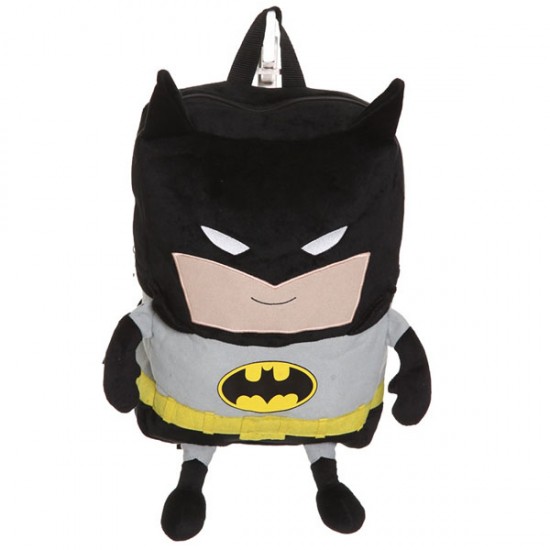 Cool little Batman backpack on Amazon via Geek Alerts.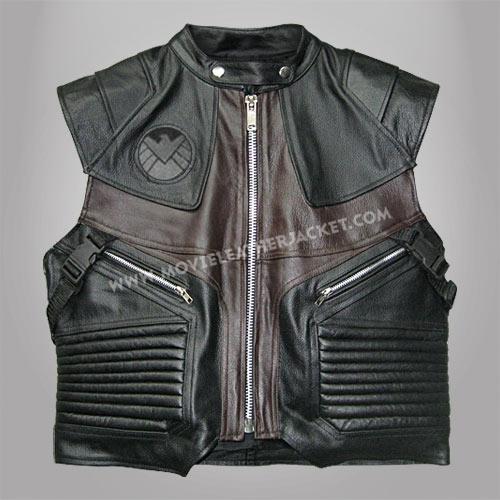 Movie Leather Jackets (via CBM) is selling some Avengers leather jackets.