Ron Howard's 'Rush' Featurette Show Precision Formula One Filming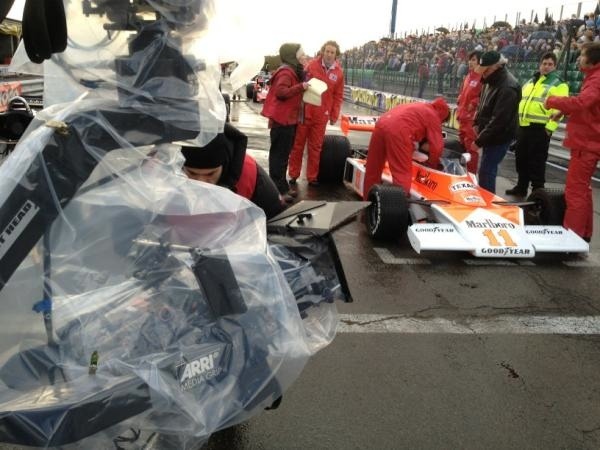 Before we once again see Chris Hemsworth as Thor, legendary director Ron Howard snatched him up to co-star in the true racing story Rush. Hemsworth plays James Hunt, a world champion Formula One racer whose lifestyle choices made him a direct rival of another world champion racer, Niki Lauda, played by Inglorious Basterds star Daniel Bruhl. Howard has been shooting his period piece for several months, incorporating real race footage, precision driving and more.
After the jump, you can see a nearly 4 minute featurette about the making of the film that cuts between Howard's production and the actual footage he's trying to recreate along with interviews and behind the scenes action. It's fantastic.
Thanks to Rope of Silicon (via FirstShowing) for finding this featurette that originally aired on the BBC.
Here's the official plot synopsis of Rush, which was written by Peter Morgan:
Set against the 1970?s golden age of Formula 1 racing, "Rush" portrays the fast-paced and exhilarating true story of two of the greatest rivalries the sport has ever witnessed – that of James Hunt (Chris Hemsworth) and Niki Lauda (Daniel Brühl) and their illustrious Formula 1 racing teams, McLaren and Ferrari. A privileged, charismatic and handsome English playboy, Hunt could not be more different from his reserved and methodical opponent, Austrian born Lauda. "Rush" follows their personal lives both on and off the track and charts their rivalry from its inception in Formula 3. Here they competed viciously against each other until Lauda's business acumen and surgeon like precision behind the wheel propelled him all the way to Formula 1; eventually landing him the number one spot at Ferrari. However it was not long before rambunctious golden boy Hunt fought his way into Formula 1, and into the hearts of a nation, dramatically seizing the championship from Lauda and proving to the critics, and more importantly himself, that there was real substance beneath the stylish exterior.
What I love about this featurette is is focuses on the attention to detail Howard is putting in this movie while also making it accessible to both Formula One fans and non-fans alike. Hemsworth and Bruhl look great but we don't see some of the film's costars like Olivia Wilde and Christian McKay.
Universal has yet to set a release date for Rush but with the pedigree surrounding it, I'd imagine a fall 2013 Oscar push will be in line.
What did you think of the featurette?