Simon Pegg And Edgar Wright Call 'The World's End' A 'Sci-Fi Comedy'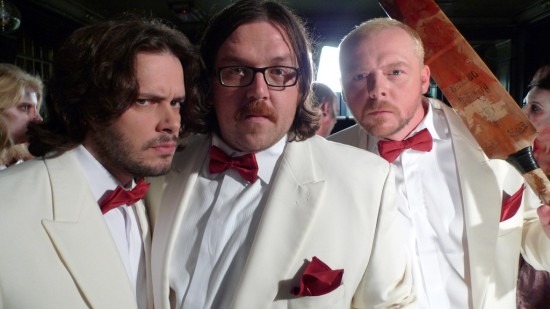 Some would say the best movie moment of May 2012 was the release of The Avengers. Or was it maybe that new Wes Anderson movie, the final Dark Knight Rises trailer or Cannes Film Festival? Fair enough and all good choices. However, I'd retort, "Do you realize May was the month Simon Pegg and Edgar Wright finally announced they're making The World's End?"
The confirmation of a film that's not only a sequel to two beloved ones, but has been rumored for half-a-decade ranks right up there with all of those things. In a new interview with Empire Magazine, the pair expands a bit on that mysterious plot description released not long ago, and suggests The World's End might actually be an alien invasion film. Read the new quotes and info after the jump.
Let's first jump back to that plot description that was released when the project was finally greenlit:
20 years after attempting an epic pub crawl, five childhood friends reunite when one of them becomes hell bent on trying the drinking marathon again. They are convinced to stage an encore by mate Gary King, a 40-year old man trapped at the cigarette end of his teens, who drags his reluctant pals to their home town and once again attempts to reach the fabled pub, The World's End. As they attempt to reconcile the past and present, they realize the real struggle is for the future, not just theirs but humankind's. Reaching The World's End is the least of their worries.
We know from years and years of rumor that while Shaun of the Dead was Pegg and Wright's homage to the horror genre and Hot Fuzz was their homage to action films, The World's End – the spiritual sequel to those two movies – would be their homage to disaster films. Or something like that. But how does a pub crawl turn into that, even if one of the pubs is called "The World's End?"
In their interview with Empire (which, as of now, is only sampled online) Pegg confirms the pub crawl is twelve pubs with World's End being the final one. Wright chimes in to say "This is as much about where you grew up as the people you grew up with..." He then added: "It's also very silly. I would say it's darker, more personal and more silly" which echoes some of their statements at the recent Hero Complex Film Festival.
All of that is well and good but we still don't have the genre. That's where things get interesting. Here's Wright:
Hard to say...It's a sci-fi comedy. Social science-fiction. Look it up on Wikipedia and then bone up on John Christopher and John Wyndham.
If you do just that, you get the following definition:
Social science fiction is a term used to describe a subgenre of science fiction concerned less with technology and space opera and more with sociological speculation about human society. In other words, it "absorbs and discusses anthropology", and speculates about human behavior and interactions.
Books mentioned include H.G. Wells The Time Machine, Aldous Huxley's Brave New World and George Orwell's 1984. My mind immediately goes to something like Blade Runner or Starship Troopers. However, Wright specifically said Christopher and Wyndham and Empire believes those two authors link at a very specific place: the alien invasion, as per the books The Tripods and The Day of the Triffids.
If The World's End is a social sci-fi, alien invasion fits perfectly. Aliens invading can obviously be construed as social commentary, it fits the sci-fi genre and qualifies as an "apocalyptic" event.
Wright and Pegg are schedule to start shooting the film this fall aimed at a 2013 release date.
Do you think The World's End is an alien invasion movie that happens in the midst of a nostalgic pub crawl?