'Abraham Lincoln: Vampire Hunter' Theatrical Trailer #2 Goes Gettysburg Address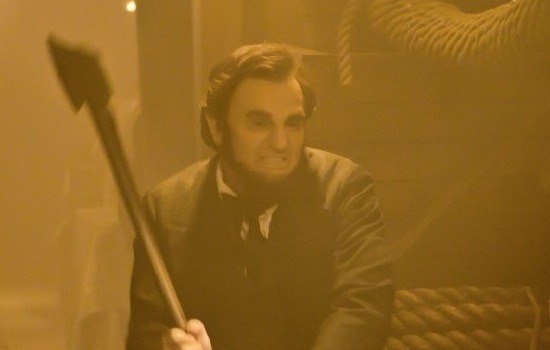 There was the teaser trailer, the theatrical trailer, an international trailer, a red band trailer and now, with a few short weeks left and a major Fox release coming out before, the company has put together one final theatrical trailer for the historical horror film Abraham Lincoln: Vampire Hunter.
The film will be released June 22 and follows the 16th President of the United States (Benjamin Walker) who becomes a lean, mean, vampire killing machine after seeing a bloodsucker kill his mother. It also stars Dominic Cooper, Anthony Mackie and Mary Elizabeth Winstead, was produced by Tim Burton, written by Seth Grahame-Smith (based on his novel) and is directed by Timur Bekmambetov. Check out the new trailer, which centers around the Gettysburg Address, below.
Don't think the fact that this trailer was released on Memorial Day and centers on the Gettysburg Address is a coincidence. It's a pretty great juxtaposition.
Coming Soon also ran a press release that Abraham Lincoln: Vampire Hunter will screen on the U.S.S. Abraham Lincoln and two other military bases leading up to its release. Head there to read that.
There's a distinct lack of horror early this summer so Abraham Lincoln: Vampire Hunter will have its pick of that audience. The bigger challenge will be if other people can put aside the film's totally crazy title and idea and enjoy what's sure to be a visually stunning, fun ride. I have an odd feeling amongst so much other competition (though G.I. Joe: Retaliation is gone) it's going to be difficult for this film to hit the numbers it really wants even if it's fantastic.
Here's the brief, official, plot synopsis:
The film explores the secret life of our greatest president, and the untold story that shaped our nation. Visionary filmmakers Tim Burton and Timur Bekmambetov (director of Wanted) bring a fresh and visceral voice to the bloody lore of the vampire, imagining Lincoln as history's greatest hunter of the undead.
Do you have high hopes for this film? What did you think of the trailer?