Judy Greer, Ivana Baquero, And Gabriella Wilde Cast In 'Carrie' Remake [Updated]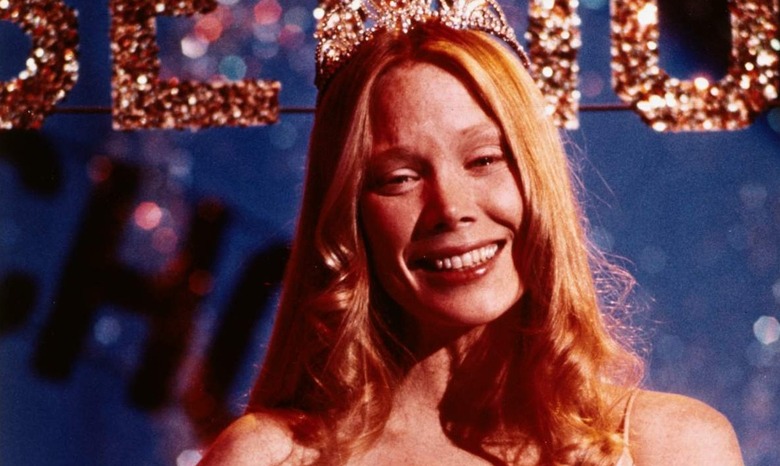 With Carrie's June 1 start date just around the corner, director Kimberly Peirce is adding the final touches to her cast. Leads Chloë Grace Moretz and Julianne Moore have been locked in since this spring, but it's only in the past couple of weeks that the production has been staffing up on supporting players.
Chronicle star Alex Russell and theater actor Ansel Elgort signed on earlier this month, and now we're hearing that Judy Greer, Ivana Baquero (Pan's Labyrinth), and Gabriella Wilde (The Three Musketeers) are circling three key supporting roles. More details after the jump.Update: Sources say this casting info isn't yet set, so we'll report further as official word is released.Bloody Disgusting (via Cinema Blend) was the first to get the scoop, via an anonymous inside source. According to the site, Greer is in talks to play the gym teacher, who was named Miss Desjardin in King's book and Miss Collins in Brian De Palma's cinematic adaptation. The character is one of the few to show any sympathy toward the beleaguered Carrie, encouraging her to come out of her shell while defending her against bullies.
Wilde has reportedly been tapped for the part of Sue Snell, who initially picks on Carrie but later tries to atone for it by arranging for Carrie to attend the prom. Baquero is said to be the frontrunner to play mean girl Chris Hargensen, whose cruel prank turns out to be the straw that breaks the telekinetic loner camel's back.
As promising as that cast is, it's still impossible to ignore the looming shadow cast over this production by De Palma's version. The 1976 film received rave reviews and earned Oscar nominations for its stars Sissy Spacek and Piper Laurie (replaced by Moretz and Moore, respectively, in Peirce's movie), and is still considered a classic of the genre today. Against that towering legacy, even a merely very good Carrie would come across as a disappointment.
But Peirce, of course, is a talented filmmaker in her own right. I suspect the director of Boys Don't Cry and Stop-Loss wouldn't have taken on this project if she didn't have her own clear, unique vision of it. Whether it proves better or worse than De Palma's, it's bound to be something more exciting than a lazy rehash. We'll see what it is when the picture hits March 15, 2013.