Sequel Bits: Pauly Shore Wants To Be 'In The Army Again', Plus: 'Hatchet III', 'Piranha 3DD', 'Expendables 2', 'Men In Black 4', 'Star Trek 2', 'Iron Sky II'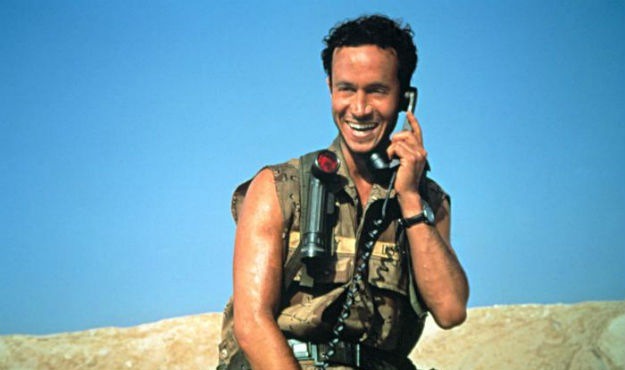 Have you spent the last 18 years wondering what happened to Pauly Shore's character after the events of In the Army Now? Well, too bad, because he plans to tell you anyway. Also after the jump:
Hatchet 3 rounds out its cast with several horror movie stalwarts
Piranha 3DD releases a hilarious making-of video on Funny or Die
Arnold Schwarzenegger slips details about his Expendables 2 shoot
Should a possible Men in Black 4 be called People in Black?
Star Trek 2 will bring back a small supporting character
Timo Vuorensola will further explore the world of Iron Sky
The really upsetting twist, however, is that there may actually be a billionaire who's willing to finance it. The AV Club has picked up a  press release from FilmOn.TV, which hosts Dick's site, which indicates that CEO Alki David told the two actors "I'll back it if both of you star in it." According to the statement, Dick already has a treatment, and plans to write the script soon. I'm not totally convinced that anything will come of this, but crazier things have happened.
With the start of shooting just around the corner, Hatchet III is filling out its ranks with several experienced horror stars. Derek Mears (Friday the 13th), Caroline Williams (The Texas Chainsaw Massacre 2), Sean Whalen (The People Under the Stairs), and Diane Goldner (The Collector) are all joining the cast, along with The FP writer/star/director Jason Trost. Danielle Harris and Kane Hodder, who starred in the previous installment, have already been set to return.
Hatchet and Hatchet II cameraman BJ McDonnell makes his feature directing debut with Hatchet III. Adam Green, who helmed the first two movies, remains on board as writer and producer. The script follows Marybeth's (Harris) hunt to end the curse that left the ghost of Victor Crowley (Hodder) haunting the Louisiana swamps. Mears has been cast as "a brooding, pompous SWAT team leader" assigned to the area, while Williams will play a journalist well-versed in the "Bayou Butcher" legend surrounding Crowley. Hatchet III will film in New Orleans late May through mid-June. [Variety]
Judging by this video, the classiest, artsiest, award-winningest film of the summer won't be Moonrise Kingdom or Brave, but a little sequel called Piranha 3DD. In this new Funny or Die video, stars David Koechner, David Hasselhoff, Katrina Bowden, Gary Busey, and others discuss the dedication and craft that went into making this very special film. If that effort sometimes involves introducing a man-eating fish to your nether regions, hey, sometimes you have to make sacrifices for your art.
Watch the video below — but be warned that it's NSFW for some totally tasteful nudity.
Piranha 3DD opens June 1. [via STYD]
While the first Expendables featured what felt like every major action star of the '80s and '90s, some had more prominent roles than others. Arnold Schwarzenegger in particular appeared in just a too-brief cameo role, to the disappointment of his fans. Happily, it sounds like he plays a bigger role in the upcoming Expendables 2 — though maybe not by much.
Schwarzenegger slipped a telling detail about his production schedule on the sequel while speaking with ET (via Collider):
[Stallone] asked me to do a few hours of a scene in Expendables on the first one and we worked really well together, Bruce Willis and Sly and myself. It was only a few hours, we just had fun, and it was a fun cameo to do. So the next movie, he said, 'OK, last time you worked four hours, how about doing this time four days?' So in Expendables 2 I did four days. Maybe when this one goes well, the next time [I'll do] four weeks on the next Expendables. Who knows?
If Schwarzenegger literally only did four days on the movie, it's likely his role won't amount to much more than an extended cameo this time around, either. But as he points out, there's always hope for Expendables 3.
The trusty Men in Black name has served Sony well for the past three films, but now that the super-secret organization has a woman (Emma Thompson's O) at the top, it may be time to make some changes. In an interview with Box Office Magazine, director Barry Sonnenfeld acknowledged the disparity:
You know what, another woman has pointed that out to me as well and asked if Emma is running Men in Black, isn't it old-fashioned to call it that. So maybe the fourth one, if there is a fourth one, should be called People in Black. Doesn't have quite the same ring, but I think you're right that it's an issue we'll have to deal with.
Then again, maybe not. Sonnenfeld seemed to like the interviewer's suggestion that the name might just show the organization's "'60s roots." "That's true. That's what I'll say," Sonneneld responded.
We still don't know who Alice Eve is playing or if Original Flavor Spock will make another appearance, but TrekMovie has discovered that one minor character from the first film will definitely be making a return.
Jason Matthew Smith will be reprising his role as "Cupcake," first seen in the 2009 film when he gets caught up in the bar fight with James T. Kirk (Chris Pine). The character reappears later in the film as a security officer aboard the USS Enterprise, and has also been spotted in the Star Trek comics. In the books, he goes by the name Hendorff, but he's never named in the last movie — Kirk simply sticks him with the nickname "cupcake" during their altercation.
I haven't yet seen Iron Sky, but its premise — that the Nazis have been hiding a colony on the dark side of the moon for decades — is apparently so wild that it just can't be contained in one feature film. So director Timo Vuorensola plans to circle back and flesh it out a bit further.
"How did the Nazis end up on the dark side of the moon, and what happened when they had returned to the Earth? The questions will be answered in a three-part mini prequel series, and the story will continue in a feature sequel, Iron Sky II," he revealed. But it could be some time before we actually see them. Vuorensola will first turn his attention to the graphic novel adaptation I Killed Adolf Hitler, which shoots in early 2013. [Cineuropa via Quiet Earth]