David Cronenberg And Robert Pattinson May Do Another Film Together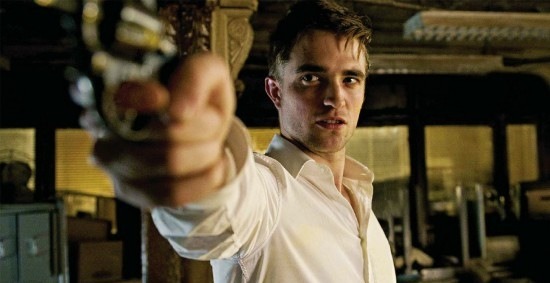 David Cronenberg's new movie Cosmopolis premieres tomorrow at Cannes, and barring some terrible reviews or other similar misfortune, it looks like it won't be the director's only film with star Robert Pattinson.
The actor now says that, in addition to the slate of other films he has lined up (more on those below) he's going to do another Cronenberg film. And while he doesn't drop a name, he does say it will be "very strange."
Pattinson told
(via
and
):
I'm filming another movie with Cronenberg but I don't know when he wants to start filming. It will be his first shoot in the United States and he promises it's going to be very strange. The next two or three years are going to be crucial for me. It's now that everything happens.
The first thing that comes to mind here is the adaptation of Jonathan Lethem's novel As She Climbed Across the Table, to which Cronenberg was
in the past couple years. That one is about,
Particle physics, false vacuum bubbles, an alternate universe–this is the stuff of Jonathan Lethem's novel As She Climbed Across the Table. The tale echoes Alice in Wonderland in its mad tumble through a rearranged reality. Narrator Phillip Engstrand is a university professor who has made a career out of studying academic environments. Engstrand is in love with Alice Coombs, a particle physicist engaged in a bold attempt to replicate the origins of the universe. The result of the experiment is Lack, a very selective black hole that sucks some things into its void–a cat, a pair of socks, a strawberry–and rejects others, namely, a love-struck Alice. As Alice's unrequited obsession with Lack grows, Phillip becomes so desperate to save his beloved from this empty rival that he risks a journey down the metaphysical rabbit hole.
But the
theorizes that this could be Maps to the Stars, as Pattinson has been rumored to be part of that production. Cronenberg has said a little bit about that one, which was
, before Eastern Promises. At the time, Cronenberg said,
You could say it's a Hollywood film because the characters are agents, actors and managers, but it is not a satire like 'The Player.' ... Hollywood is a world that is seductive and repellent at the same time, and it is the combination of the two that makes it so potent. I won't fall back on some cliches or simplistic sloganeering, because the culture and what it reveals about Western culture and the rest of the world is very complex. I'll definitely shoot some in L.A. and the rest on sets in Toronto.
That mention of shooting in LA is also something that pegs this as a possible ID for the new film with Pattinson; typically Cronenberg shoots in or around Toronto. But all we can do at the moment is theorize, and knowing the way Cronenberg works, he could end up doing some other entirely new project. Incidentally, the draft of Maps that attracted Cronenberg and the most recent draft of As She Climbed Across the Table are both by Bruce Wagner.
And what about those other films for Pattinson? Well, he may be hunting Saddam Hussein in Mission: Blacklist, and he's definitely part of The Rover, which is the new film from Animal Kingdom director David Michod. And then in the same interview quoted above he also says,
I'm going to do a movie about The Band, the one that played with [Bob] Dylan. [It's] a beautiful script about the nature of songwriting.
The Band is the subject of Martin Scorsese's film The Last Waltz, which chronicled the group's final show in what became one of the best rock and roll movies ever made. It is also the group that counted among its members Levon Helm, who passed away very recently, and the introduction to singer/guitarist Robbie Robertson for most of the world. Quite a far cry from Twilight, and I'm sure no one is happier about that than Pattinson.