Four New 'Dark Knight Rises' Banners Highlight The Film's Massive Scale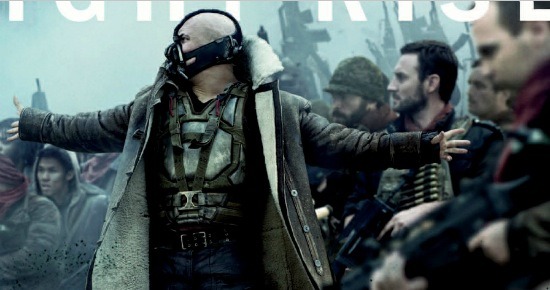 There's one word to accurately describe the four new banners that have just been released for The Dark Knight Rises. That word is "woah." People certainly didn't have that reaction for the latest poster, and though most fans liked the character posters more, these banners raise the stakes. They represent our best look yet at the massive scope and size of Christopher Nolan's latest. Bane and his army take center stage here leaving us to wonder, how can Batman possibly triumph? Check out the images below.
Thanks to Collider for the images. Click on each to see them in super high-res. And you should, because the details in the background are revealing.
As a group, it's almost as if these four images tell the story of one of the movie's action scenes. Look closely at the Catwoman image. That's an exploding tumbler in the background and she's raining bullets down the street. The Batman image looks like Matthew Modine's character is behind him, as well as the rest of Gotham's police force. Bane's solo shot is probably the mirror to the Batman one with his own army and it looks like he has three tumblers. Wait, weren't those specially made for Wayne Enterprises? The plot thickens.
Finally, the showdown image is the perfect representation of Batman vs. Bane with the weight of the world on his shoulders. Just really evocative, awesome stuff.
Check Superhero Bits later today for some more new images from The Dark Knight Rises. But, for now, discuss these below.