'The Watch' Trailer: Glimpse Aliens In The Ben Stiller And Vince Vaughn Sci-Fi Comedy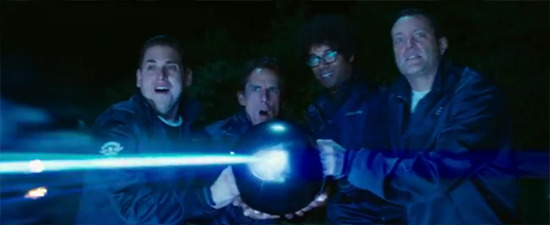 Recently, thanks to the ongoing and increasingly controversial case around the shooting of Trayvon Martin, Fox changed the title of Neighborhood Watch to The Watch. Now we've got a new trailer for the film under the new name. This footage is culled in part from the red-band trailer that announced the title change, but it does show a glimpse of the invading aliens that we didn't see in that last collection of footage.
Check out the footage featuring Ben Stiller, Vince Vaughn, Richard Ayoade, and Jonah Hill, presented thanks to Vaughn's invasion of Conan, below.The trailer starts a couple minutes into the clip below.
So we don't get a great look at the alien — it's pretty dead and smashed in that shot — but it's better than the quick shadow seen in the red-band trailer and also repeated here. (That shot makes the name change more clear, too. Kinda difficult to watch that bit without thinking of Trayvon Martin, unfortunately. That will pass eventually — in a couple years no one will associate the the movie and that event — but right now it's a sad coincidence.)
Directed by Akiva Schaffer (Hot Rod) and written by Seth Rogen and Evan Goldberg(Superbad), the film follows "a handful of suburban dads who end up over their heads when their time-killing neighborhood safety group uncovers a dangerous plot that is beyond what they expected to deal with." The Watch hits on July 27.