'Whole Lotta Sole' Trailer - A Light, Brendan Fraser-Starring Comedy From The Director Of 'Hotel Rwanda'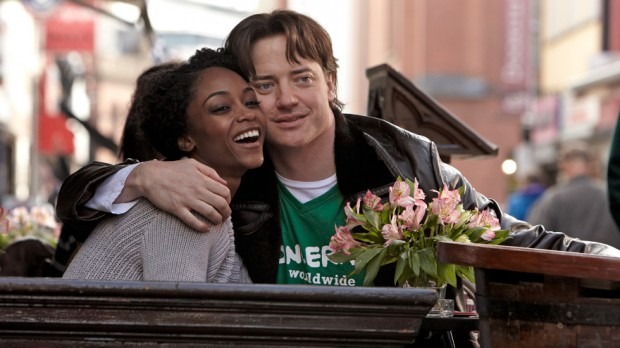 Don't worry — though the groan-inducing title and involvement of Brendan Fraser suggest the worst, Whole Lotta Sole is not a stupider sequel to 2010's Furry Vengeance. Instead, it's an uncharacteristically lighthearted dramedy from Terry George, the writer/director behind such serious-minded works as Hotel Rwanda and Reservation Road.
Martin McCann (The Pacific) stars as Jimbo, a young father who's in heavy debt to local crime boss Mad Dog Flynn (David O'Hara, The Departed). Desperate, Jimbo decides to hold up the local fish market (called Whole Lotta Sole, hence the title) but finds himself in even deeper trouble than before. In an attempt to break free, he takes hostage an American antiques shop manager Joe (Fraser) and his new girlfriend Sophie (Yaya DaCosta). Colm Meaney also stars, as the policeman detective on the case. Watch the trailer after the jump.
[via Latino Review]
Whole Lotta Sole appears to be George's attempt at a Guy Ritchie-style heist flick with some Martin McDonagh edge. From here, though, it looks like the end result is just pleasantly inoffensive, neither stylish nor witty enough to measure up to either. Reviews from the movie's world premiere at Tribeca bear out that impression. While The Playlist called it "a thunderously unfunny mess," most other critics seemed more in line with The Film Stage's opinion that it was "a fine enough way to pass the time, but an unmistakably minor effort from this acclaimed director."
Fraser in particular has picked up a few compliments for his low-key but appealing turn in the film, which is a plus because we're about to see him everywhere all of a sudden. After a couple years of taking it slow, Fraser has four more films due out sometime in 2012 and 2013, and is attached to at least three more that'll probably hit in 2013 or 2014. Whole Lotta Sole has not yet set a release date.