Mark Millar Says 'Kick-Ass 2' Will Start With 30 Minutes Of Hit-Girl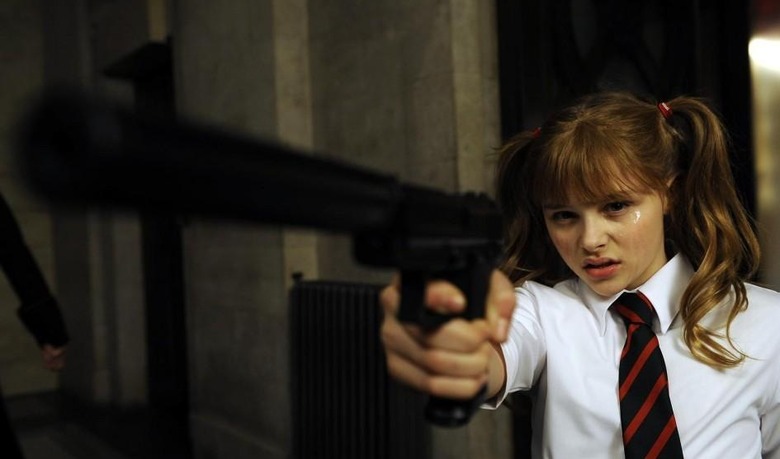 Kick-Ass 2 director Jeff Wadlow had really better hope those talks with star Chloë Grace Moretz go well. In volume 2 of the comic book series by Mark Millar that inspired the movie, Moretz's Hit-Girl character is somewhat sidelined because (this is a possible spoiler) she ultimately gives up her superhero persona. But Wadlow said over the weekend that he planned to make Hit-Girl, aka Mindy Macready, "a major, major part of the film," and now we know exactly how major that is.
According to Millar, Kick-Ass 2 will open with 30 minutes centered on the Hit-Girl character before shifting focus back to the titular Kick-Ass (Aaron Johnson). Read his comments after the jump.
Of course, that plan could hit a major snag if Moretz is unavailable or unwilling to return. Since the release of the first Kick-Ass, Moretz has become one of the most in-demand talents of her generation. Her IMDb profile currently lists some half-dozen projects in pre-production, which could conceivably make it tricky for her to find room for Kick-Ass 2 even if she wants to.
Millar, however, seemed unconcerned. "As far as we know everyone is scheduled to come back, unless somebody is hit by a bus or something," he told the site. "Chloe has a busy schedule but she has to stop sometime." Wadlow expressed a similar confidence speaking about Moretz a few days ago, saying they'd spoken and that she was "very excited about what we're doing with Hit-Girl."
During the conversation, Millar also let slip a few other details on Kick-Ass 2. Fans will no doubt be pleased to hear that new movie will be be no more toned down or cleaned up than the first one was. "Every horrible scene in the book will be in the film," Millar said. "The c**t line in the first one, everybody said 'there's no way you're getting that in the movie', but it happened and it's the same thing with this. Everybody is saying 'you can't have a gang rape scene with supervillains' and 'you can't have the dog's head cut off', but every single one of those scenes will go in it."
And while a Kick-Ass 3 on the big screen is definitely still a ways away, a Kick-Ass 3 on the page isn't quite so far off. Millar additionally offered a few juicy details about the forthcoming third volume of his comic book series, which picks back up with the characters two years after the events of Kick-Ass 2. Read the rest of the conversation at Digital Spy, though be warned that some spoilers follow.