Teaser Website Launched For Andrew Dominik's Cannes Crime Blast 'Killing Them Softly'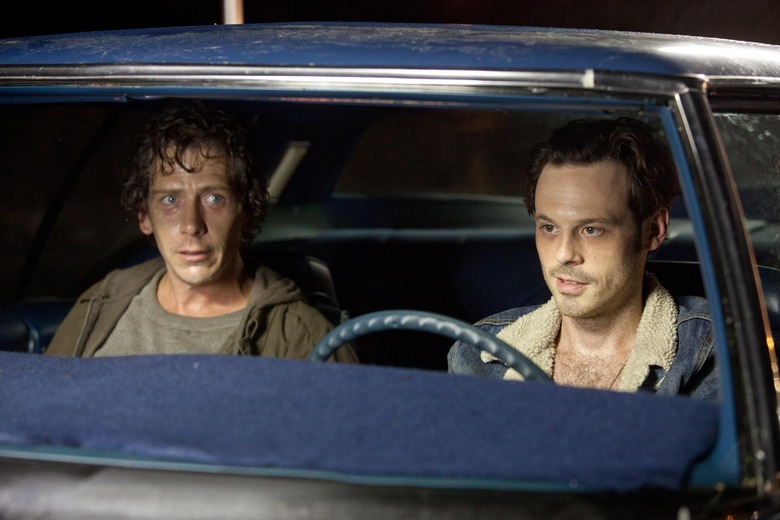 Based on the strength of his two films Chopper and The Assassination of Jesse James by the Coward Robert Ford, we've eagerly anticipated Andrew Dominik's new film Killing Them Softly. The movie is an adaptation of a novel by George V. Higgins and shot last year under the title Cogan's Trade. It features Brad Pitt as a mob enforcer on the trail of two guys (Scoot McNairy and Ben Mendelsohn) who robbed a big-ticket poker game. While the plot is pretty minimal, it sounds like there's more to the movie than just that.
We've seen a couple clips, and word out of Cannes was intriguing. There's even a controversial angle, as Dominik seems to have positioned the film specifically as a rebuttal of modern capitalism. Reviews out of Cannes were slightly mixed, but the positive ones tended to be very positive (as with Jesse James) and now a sleek website has been launched, filled with new images from the thriller, to put the movie out to the masses.
Let's hit some notes from Cannes. The critique of modern capitalism comes straight from the director, as the LA Times noted after the press conference:
Andrew Dominik and his star-producer, Brad Pitt, who offered with frankness — both in the film and at a Cannes Film Festival news conference that followed on Tuesday morning — their unfavorable opinion of capitalism as recently practiced in the U.S. Everything you need to know about Dominik's worldview came with a moment in the news conference in which the Australian said that in his experience America is largely about making money, and that that went double for Hollywood.
In an interview with The Playlist, Dominik added,
I wanted to make a cartoon, you know? I'm serious, it's a cartoony kind of movie. And I don't know how that happened. You know, in the movie [the characters are] going through an economic crisis, and the real world was going through an economic crisis, and everything just started reflecting on everything else like a hall of mirrors. It's kind of a cynical take on things, a sort of godless, faithless universe, and that's not the universe I live in all of the time, but it's a place I visit.
IndieWire's review from Eric Kohn echoed that, saying
The director's gritty, violent and heavily stylized adaptation of George V. Higgins' 1974 crime novel updates the story to recession-era 2008 and overstates it to the extreme, but Dominik brings a sleek pulp sensibility to the material and melds its topicality to a strange form of scathingly anti-capitalist entertainment.
Hitfix called Killing Them Softly a "lean, mean, cynical little crime film... a stylish delight, but perhaps not what many viewers will expect," before praising Pitt, McNairy, and Mendelsohn. Drew also says "The film puts to bed the lie that Americans are a community, that we all care for each other, and that we are in any way united these days.  And if that sentence bothers you, then chances are Dominik's film will drive you crazy."Hollywood Elsewhere offered,
Most of Softly, like any good crime pic, is about character, dialogue, minutae, this and that manner of slimeball scumbag, rain, sweat, snack, bottles of beer, guns and old cars (i.e., ratty old buckets, classic muscle cars, '80s gas guzzlers). Nobody in Killing Me Softly ever heard of a Prius.
Bleeding Cool praised the performances, but argued "From the stop-start, politically driven, opening sequence to the musicless closing credits, this movie often seemed like it was trying hard to make a statement but often left me feeling it was a case of style over substance."
All of which raises my interest in the film significantly. I'm happy to see a thriller that makes an argument, even if it might end up being one I don't agree with. And Dominik's comment about the film being somewhat exaggerated in deliberate style seems to put many of the overall takes on the film into perspective.
The teaser website is at http://killingthemsoftlymovie.com/, and it features good quality presentations of the two released clips along with some new photos; presumably the trailer will soon be hosted there as well.
Here's the great teaser poster for the film. Killing Them Softly opens on September 21.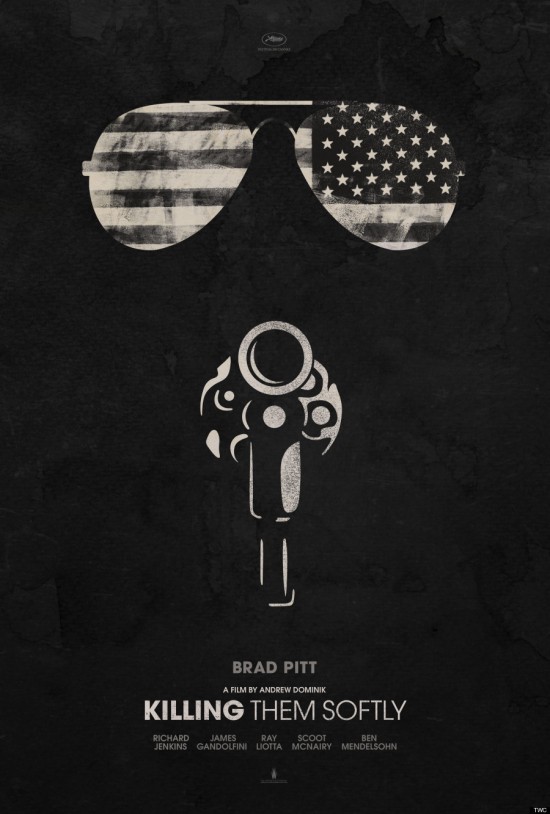 Three dumb guys who think they're smart rob a Mob protected card game, causing the local criminal economy to collapse. Brad Pitt plays the enforcer hired to track them down and restore order. KILLING THEM SOFTLY also features Richard Jenkins (THE VISITOR), James Gandolfini ("The Sopranos"), Ray Liotta (NARC), Scoot McNairy (MONSTERS), Ben Mendelsohn (ANIMAL KINGDOM), and Vincent Curatola ("The Sopranos"). Max Casella, Trevor Long, Slaine and Sam Shepard also make appearances. KILLING THEM SOFTLY is written for the screen and directed by Andrew Dominik (The Assassination of Jesse James by the Coward Robert Ford), and is based on the George V. Higgins novel, "Cogan's Trade." Brad Pitt, Dede Gardner, Steve Schwartz, Paula Mae Schwartz, and Anthony Katagas produced  the film, with Roger Schwartz, Matthew Budman, Will French, and Douglas Saylor Jr. serving as co-producers. Director of photography Greig Fraser, and production and costume designer Patricia Norris led the creative behind-the-camera team. Casting for KILLING THEM SOFTLY was handled by Francine Maisler, and Brian A. Kates, A.C.E., served as editor. Executive producers are Megan Ellison, Marc Butan, Bill Johnson, Jim Seibel, Bob Weinstein, Harvey Weinstein, Adi Shankar and Spencer Silna.