Nicholas Stoller To Direct Zac Efron And Seth Rogen In 'Townies'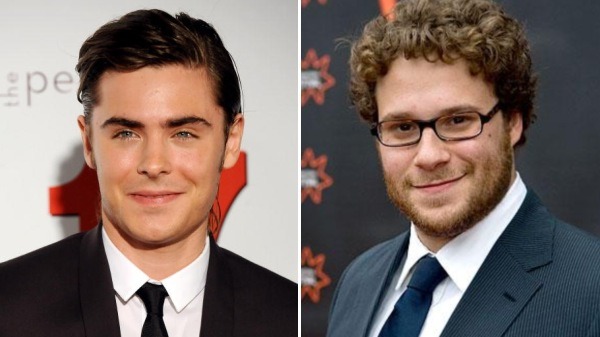 An obnoxious, loud frat boy played Zac Efron will butt heads with a neighborhood family man played by Seth Rogen in an upcoming comedy called Townies. Nicholas Stoller, who directed The Five Year Engagement, Forgetting Sarah Marshall and co-wrote The Muppets, is in talks to direct. Universal bought the pitch by Andrew Cohen and Brendan O'Brien last summer. Read more after the jump.
The Hollywood Reporter first wrote about this package bringing together an up and coming comedy director, a proven box office star and a talented young actor hopefully looking to break out of an alarming rut. That's Stoller, Rogen and Efron respectively.
In Townies, Rogen plays a normal family man who gets fed up with the activities of a nearby frat house led by Efron's character. The rivalry then devolves into what's likely something along the lines of Old School meets Step Brothers.
As a package, it certainly sounds commercial but the Hollywood Reporter doesn't make it sound like Cohen and O'Brien even have a fully fleshed out script yet despite selling the idea in July. [They probably do, but one never knows.] Until that's straightened out and Stoller, Efron and Rogen all sign off (as well as producer Evan Goldberg and I'd be willing to bet godfather, Judd Apatow too) Townies might be a little while away from becoming a reality.
Do you think Efron is ready to star as the bad guy in a big, broad comedy? Will he have chemistry with Rogen? And will Stoller be able to keep the movie focused, a problem some of his previous films have suffered from?