Star Wars Bits: Disney's Carbon-Freeze Walkthrough, Updates On Live Action TV Series, Boba Fett Movie And More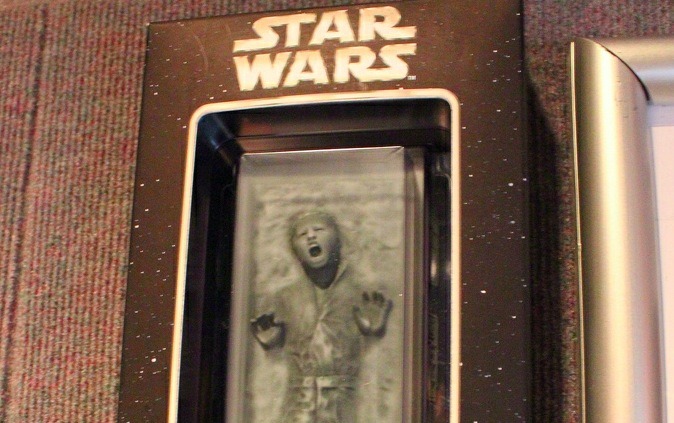 Earlier this month, it was revealed Star Wars Weekends at Walt Disney World provided fans a chance to buy a custom made toy of themselves in Carbonite, just like Han Solo. That's now underway and, after the jump, you can see some video and learn more about that process.
There's also a new video interview with LucasFilm producer Rick McCallum where he sets the record straight, again, about the Star Wars TV show and dashes some hopes for a Joe Johnston-directed Boba Fett movie.
Let's start with the piece of information that's actually encouraging and cool. Inside the Magic has a detailed report on the Carbon Freeze Me event that's taking place at Disney's Hollywood Studios and it looks mighty impressive. Here's a video of the experience but you can head to their site to see some photos and things too.
Next up, IGN spoke to producer Rick McCallum at Kapow in London this weekend and he talked about the live action TV show, a Boba Fett movie and a few other odds and ends. Here's the video. If you don't want to watch it, I'll pulled some highlights below.
McCallum is still saying the live action Star Wars TV show has 50 really good scripts ready to go, they'd just be too expensive to film with modern technology. Especially for television. This has been the status quo for the past few years.
A recent update was that the show might have the working title Star Wars: Underworld, but McCallum said that wasn't the case and that the show simply takes places in the Underworld of Coruscant between Episodes III and IV. I believe his mention of Coruscant is a new piece of info.
He still feels once the cost can get down to, a still staggering, $4-5 million per episode, they'd be ready to move forward.
On the subject of a potential Joe Johnston Boba Fett movie, McCallum made it clear the possibility of George Lucas letting that happen were slim to none. That means "never say never" but it's not likely. Same goes for a full on Star Wars theme park.
 Image: Inside The Magic