Superhero Bits: Amazing Spider-Man, The Wolverine, Man Of Steel, Thor 2, Dark Knight Rises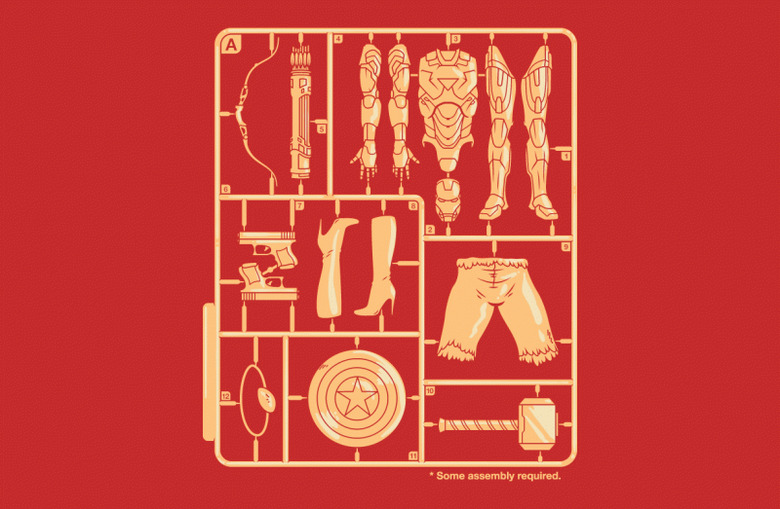 Want to see a ton of behind the scenes images from The Avengers and The Amazing Spider-Man? Why are Andrew Garfield and Emma Stone singing? When does The Wolverine start filming? Will Loki be redeemed in Thor 2? Who is rumored to play Lobo in a new movie? What's the link between the NBA and The Dark Knight Rises? Which site says Ant-Man has been greenlit? Has a famous comic writer created his own convention? And want to read descriptions of some scenes in Man of Steel? Read about all that and more in today's Superhero Bits.
Andrew Garfield and Emma Stone sing a weird, funny promo for The Amazing Spider-Man via Vulture.
In that same Vulture article, Garfield said he was jealous of everyone in The Avengers:
I saw it, and I was blown away. And I'm going to see it again this weekend. I have no problem adding to the amount of money it's making! [Laughs.] Joss Whedon is a genius, and it's an incredible cast. I was very, very jealous, and I wanted to jump on the screen and play with them. It killed me that I wasn't in it, but I understand why, and I'm not insulted. But hey, if Samuel L. Jackson wants to give me a shout, I'm there for the next one!

/Film reader Matthew L posted this cool Pixar/Avengers mashup on his Facebook.
Bleeding Cool reports two comic character rumors: The Enchantress will be in Thor 2 and Dwayne "The Rock" Johnson could be playing Lobo in a DC Comics film.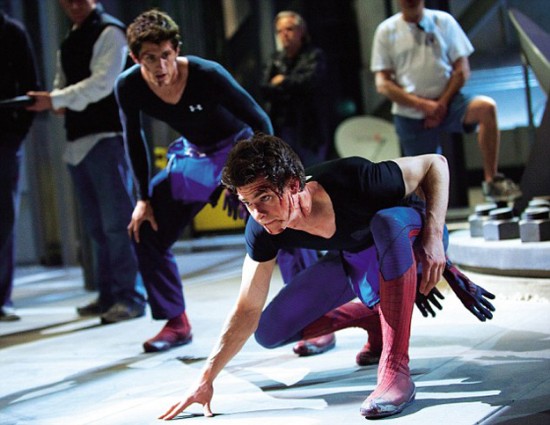 Stuntman William Spencer (via Superhero Hype) posted some cool behind the scenes images from The Amazing Spider-Man.
starts shooting in August!!! "@MarkGreen74: @RealHughJackman Hi Hugh, any updates on the next Wolverine film for all us geeky fans? ????"
— Hugh Jackman (@RealHughJackman) May 19, 2012
The Wolverine starts shooting in August thanks to Hugh Jackman's Twitter.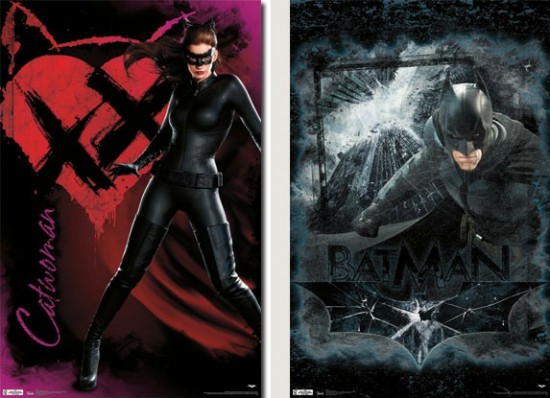 Trends International (via SHH) posted these kind of Spencers/Wal-Mart posters for The Dark Knight Rises. Really ugly.
The Dark Knight Rises started advertising during the NBA Playoffs this weekend. Here's a commercial via SHH.
Rumblings in #Cannes are that @edgarwright's ANT MAN has been greenlit. #rumor
— TWITCH (@TwitchFilm) May 19, 2012
The reliable Twitchfilm says Edgar Wright's Ant Man might have been greenlit.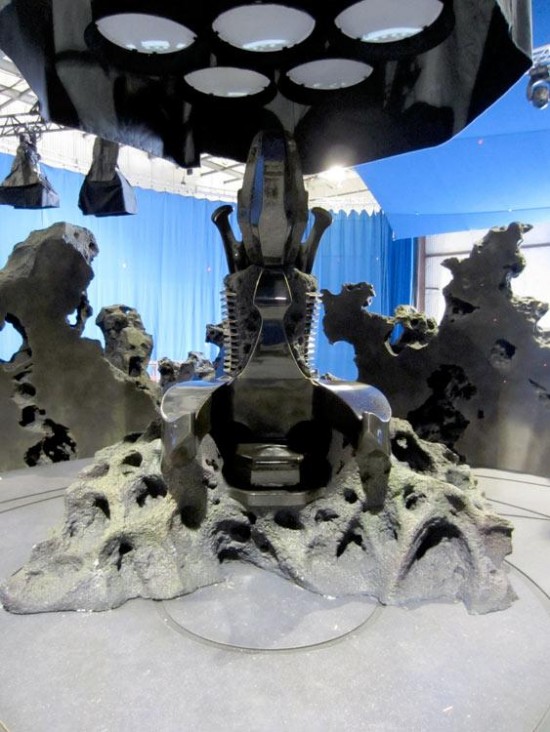 Skullboy (via CBM) posted several behind the scenes photos from The Avengers including this of a certain baddie's throne.
Comic Book Movie has a recap of The Amazing Spider-Man footage shown at Kapow, the comic convention in London.
Due to the amount of graphics and images included in Superhero Bits, we have to split this post over THREE pages. Click the link above to continue to the second page of Superhero Bits.
Here's your first glimpse at footage from CW's superhero show, Arrow.
Ain't It Cool News has a fascinating article on science in The Avengers.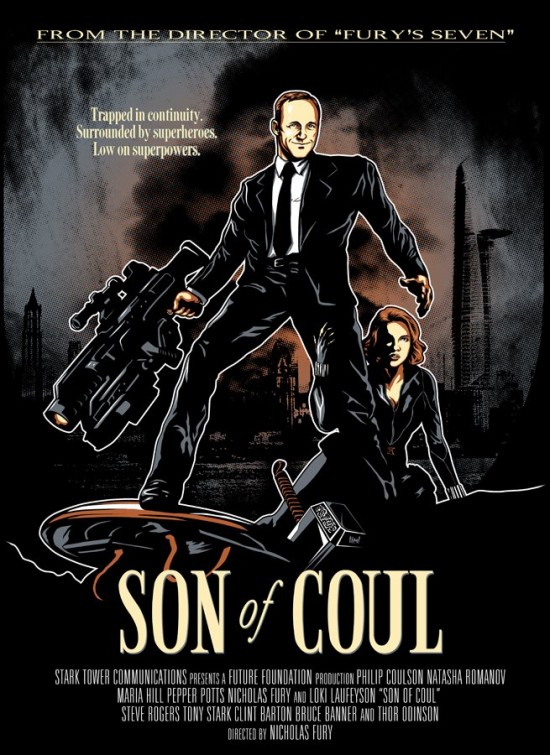 Cool Avengers/Army of Darkness mashup poster.
Clocking in around $460 million, The Avengers is now the #6 biggest hit in domestic box office history. Ahead of it, two Star Wars films, two James Cameron films and The Dark Knight.
Several behind the scenes people have posted some of their work on The Avengers and Comic Book Movie put it all in one post. Here's an animatic by Jane Wu.
Converse (via Nerd Bastards) now gives you the opportunity to design and purchase your own Batman themed Converse.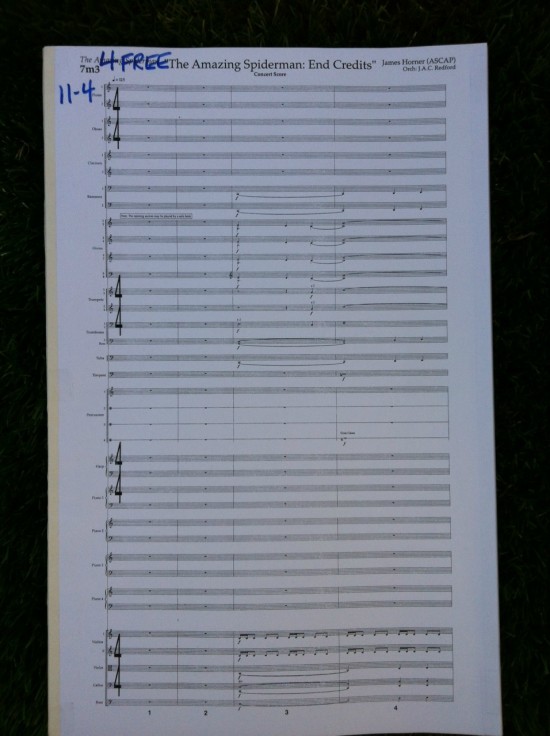 Marc Webb tweeted this page of James Horner's score from The Amazing Spider-Man.
I've already reported on the Batman #1 selling for $850,000 right? If not, now I have.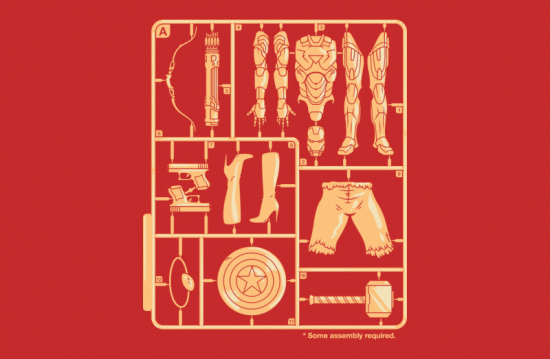 This shirt from Busted Tees, Some Assembly Required, is mad cool. And affordable.
Collider found a post on the IMDB of two descriptions of scenes from Man of Steel. They were asked to take it down (meaning its legit and a spoiler) but Film School Rejects still has it. Very cool stuff. Here's a non-spoiler snippet:
It was incredible, it really was. And absolutely visually stunning, but my qualm is its typical Zack Snyder. It doesn't look glossy like his films do. It instead has a more clean cut, colorful look. Like Thor, or Iron Man. But it is the same slow-mo styling that people expect from him. Maybe it just happens in this one scene, but it happens twice. Makes me a bit hesitant, despite the fact it looks phenomenal.
Due to the amount of graphics and images included in Superhero Bits, we have to split this post over THREE pages. Click the link above to continue to the third page of Superhero Bits.
Marc Webb talks about some behind the scenes secrets from The Amazing Spider-Man via Coming Soon.
Badass Digest believes The Avengers defeated irony and cynicism.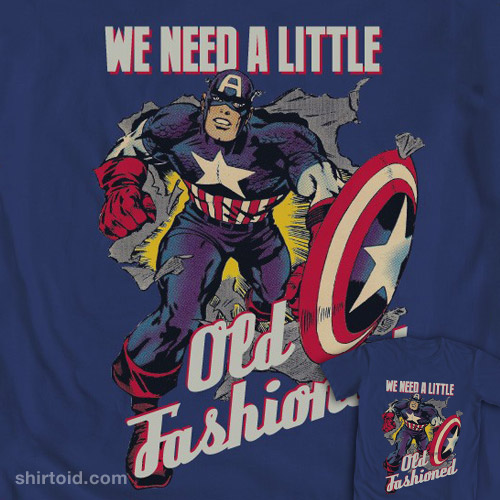 We Love Fine (via Shirtoid) has this cool Captain America shirt that references The Avengers.
Grant Morrison is starting his own comic book convention. Read more at The Hollywood Reporter.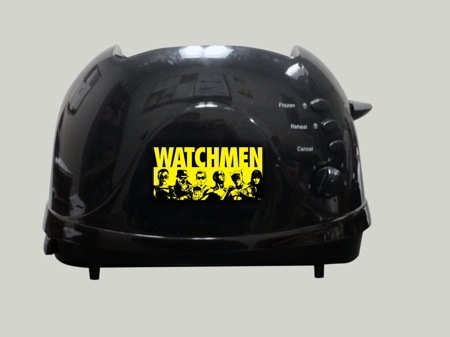 Watchmen toaster via Comic Vine.
Film.com asks the question, what if The Avengers let Loki win? Speaking of which...
Get More: Movie Trailers, Movies Blog
Talking to MTV, Chris Hemsworth teased Loki's possible redemption in Thor 2. You'll have to navigate some Snow White and the Huntsman stuff too.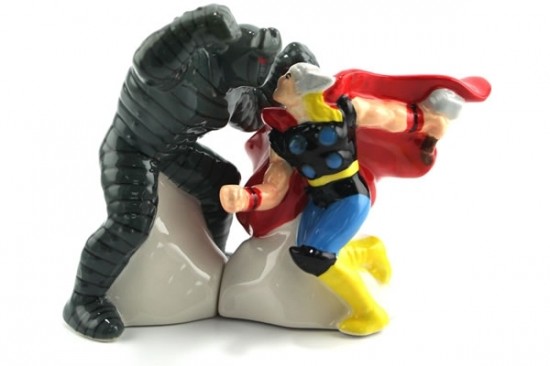 Cool Thor vs. Destroyer salt and pepper shakers from Neatoshop via Geek Alerts.
R3Load.net recreated the Spider-Man cartoon intro with footage from Marc Webb's Amazing Spider-Man.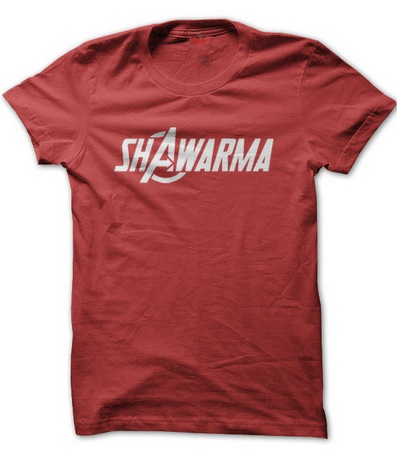 @EricStriffler tweeted us this cool Avengers shirt at Obscurity.com. It's in different colors too.
Superhero Bits was off for a few days and we'll attempt to play catch up but, if you can't wait, this post at Comic Book Movie recaps the last week.