Sequel Bits: Robert Rodriguez Talks 'Machete Kills' And 'Sin City 2', Plus: 'Tangled 2', 'Tron: Uprising', 'Men In Black 3', 'Iron Man 3'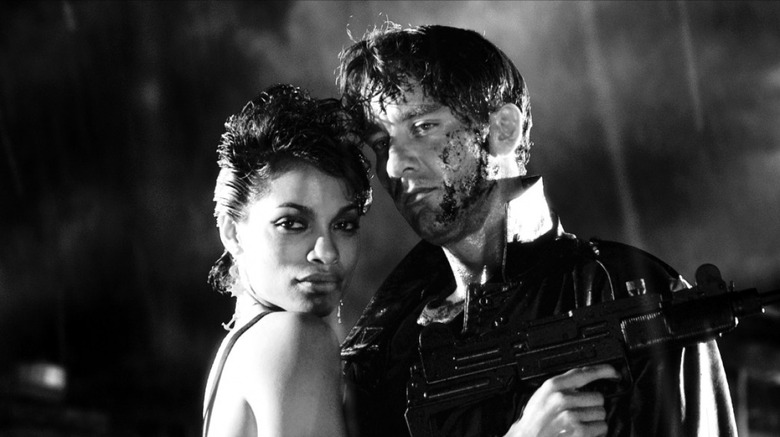 Three sequels, two threequels, and a TV show spinoff feature in today's Sequel Bits. After the jump:
Mandy Moore talks about Tangled 2 and Tron: Uprising
A German screening of Men in Black 3 breaks a world record
Fan Bingbing and Yang Mi join Andy Lau in Iron Man 3
Robert Rodriguez drops hints on Machete Kills and Sin City 2
Until Tangled 2 gets going, though, Moore already has Disney XD's upcoming animated series Tron: Uprising to keep her busy. While much of the marketing so far has focused on the lead character of Beck (voiced by Elijah Wood), Moore dropped lots of details about her character, Beck's best friend Mara:
Mara is a mechanic in Able's garage, along with Elijah Wood's character, Beck, and Nate Corddry's character, Zed. They are this little trifecta – this trio – of best friends. They work together and they play together, but Mara is one of the guys. She is confident and spunky and the voice of reason, I like to think, especially as the series progresses. As the series does progress, she finds herself falling in love with this masked vigilante – The Renegade. She doesn't realize that, in fact, it is her best friend, Beck. She is in love with his moral compass and what he stands for, and she is right behind him. She is great at what she does, too. She specializes in vintage technology and older Light Cycles. She has a real affinity for the older technology, in a geeky way, unlike anybody else in the garage. But, she also works on some of the more bad-ass, harder, scary bits and pieces of machinery. She really knows her way around that garage. She is a much cooler girl than I am. The blue hair is her trademark.
Tron: Uprising premieres June 7 on Disney XD.Men in Black 3 won't even hit U.S. theaters until this weekend, but its German premiere has already broken a world record. 6,819 movie lovers attended a screening of the film at O2 World in Berlin, making it the largest 3D movie screening of all time as confirmed by Guinness World Records. The set-up involved "an array of four Sony 4K SRX-R320's, projecting left and right eye 3D images simultaneously onto a giant 25.9m x 14m screen." How the movie actually performs in the normal box office, we'll see in a few days, but for now this seems to get Men in Black 3 off to a good start. [Market Saw]Iron Man 3 is beefing up its Chinese cast. Fan Bingbing and Yang Mi will join Andy Lau in the Marvel production, according to Hong Kong's Apple Daily (via CBM), playing Lau's wife and assistant, respectively. Lau is set to play a scientist who helps Tony Stark (Robert Downey Jr.) in his fight against Ben Kingsley's villainous character.
The report also offers further clues as to the sequel's shooting location and plotline:
The film will have location shooting in Beijing and Shanghai, it will narrates that the daughter of Robert Downey Jr.'s friend was kidnapped and brought to China, in order to save his friend's daughter, he flew over from America to China to seek help from Andy to strengthen his abilities to fight The Mandarin. You will see Iron Man fly over The Great Wall of China, National Palace Museum & other landmarks in Shanghai May 2013
While Marvel has yet to confirm that Kingsley is playing The Mandarin, Apple Daily reports it as fact. The publication notes that the casting of Kingsley to play a character traditionally portrayed as Chinese in the books could be a move to keep from alienating foreign audience. "[The production] had already got approval from the State Administration of Radio Film and Television in order to be shot, all contents that harms Chinese image had been 'removed', this explains why the villain will be a bit different from the original comic," it writes. Iron Man 3 opens May 3, 2013.
Robert Rodriguez has regularly mentioned Machete Kills and Sin City: A Dame to Kill For since before either film was close to becoming a reality, and now that they're both on track to begin shooting this summer he's happier than ever to talk them up. In a recent event at Cannes, Rodriguez offered several intriguing details about his new projects, including the warning not to believe everything you read online.
Specifically, Rodriguez told attendees that the synopsis that's been circulating for Machete Kills is "misdirection — it's all fake":
Machete is recruited by the President, that's true, but there's no cartel leader and the weapon in space is just one of our early story ideas. That said, there is still a space element, for sure. We've given the character a much bigger playground. It's going to be like a James Bond movie, with a Bond-style villain."
Said villain (as previously reported, online even) will be played by Mel Gibson, whom Rodriguez says is "just a badass." "This won't just be him grinning, doing bad-guy stuff," Rodriguez teased. "He's going to do something with it that'll really get people talking." I mean, hey — if filmgoers are still having a hard time wrapping their minds around a likeable Gibson, I guess it makes sense to just make him totally, gleefully horrible.
As for Sin City, Rodriguez promises that the new follow-up will be even more stylized than the original.
I really held back the first time, because I didn't know whether audiences would go for it. So it ended up looking like a real movie, but in black and white, with a few flourishes. This one is going to push way further towards the books. It's going to shock and surprise people.
Rodriguez continued with some choice words about the titular Dame, femme fatale Ava Lord. "She's completely diabolical with no mercy. She's as evil as evil gets," he enthused. While optimistic fans have wondered if Angelina Jolie could end up taking the part, Rodriguez would only say that it was "a great part for any actress." Returning stars Mickey Rourke and Jessica Alba were the only names Rodriguez would confirm, though he hinted that he'd be talking to some "seriously big names" over the next couple of weeks.
Machete Kills and Sin City: A Dame to Kill For will shoot back to back this summer. [Empire]