'Breaking Bad' Art Project Continues With 'Gus' By Anthony Petrie
If you aren't totally caught up with AMC's Breaking Bad, I urge you not to check out the latest piece of art from the Breaking Bad Art Project. It's of a major, major spoiler concerning that happens in the latest season's finale. However, if you are caught up, I'm sure you have an idea exactly what awaits you below if I say it concerns Gus (Giancarlo Esposito). The above image is just a small, non-spoiler, sliver.
The Breaking Bad Art Project is a viral campaign that's revealing one piece of art per week leading up to this summer's final season premiere of Breaking Bad. This third poster is by relative newcomer Anthony Petrie, who just so happened to do my favorite piece in the recent Avengers Assemble art show as well. He's one to watch, as is this show. Check out the poster below.
The third poster should be available sometime Monday afternooon at the website http://wevegotworktodo.com/. That site was revealed on the latest Comedy Bang Bang podcast featuring everyone's favorite scumbag lawyer, Saul Goodman (Bob Odenkirk). For Breaking Bad fans, hearing Saul podcast is a must listen.
And here's your last warning, if you haven't caught up on Breaking Bad, don't look at Petrie's image. Here it is.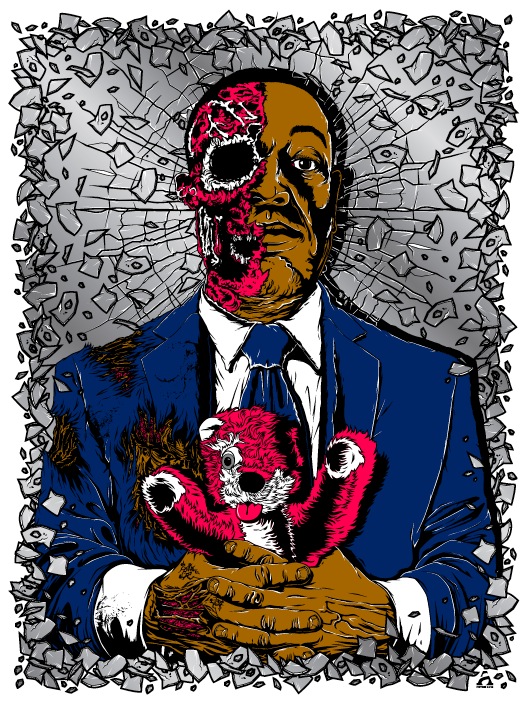 Pretty striking, no? I love that it draws a parallel I didn't think of between the blown off face of the teddy bear from a few seasons ago with the blown off face of Gus thanks to Walt.
As for Petrie, the guy has some major talent and if the success of some of the first time screenprint artists from the last viral, for Lost, is any indication (Olly Moss, Eric Tan) this might be one to pick up.
What do you think of the image? What has been your favorite so far?