'Hyde Park On Hudson' Trailer: Bill Murray Gets Delightfully Presidential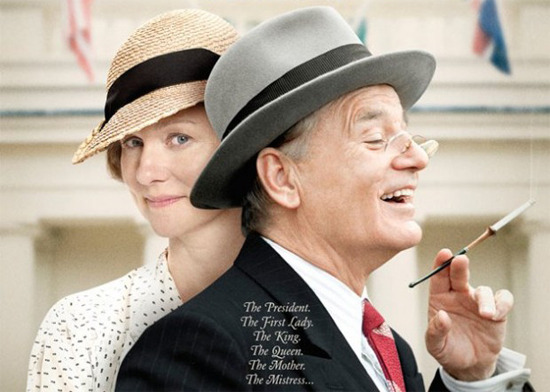 I have no idea whether or not Hyde Park on Hudson actually conforms to any factual truth, but seeing Bill Murray romp, in stately fashion, as President Franklin Delano Roosevelt could prove to be quite a joy.
The first trailer for the film, which was directed  by Roger Michell (Morning Glory, Notting Hill), introduces Murray's take on FDR, as the President hosts the King and Queen of England (Samuel West and Olivia Colman) at a retreat in upstate New York prior to the outbreak of World War II. There is a minor clash of cultures as the royals meet FDR and his staff, but also a bit of potential scandal as the President attends to Daisy (Laura Linney) rather than his wife Eleanor (Olivia Williams).
Above all, however, is Murray and his warmth and charm as FDR. Check out the trailer below.
Richard Nelson scripted Hyde Park on Hudson based on his own play, based in turn on the 1939 visit by King George VI and Queen Elizabeth to America — the royal couple's first appearance on these shores. As we see in the trailer, the in itial culture clash gave way to a growing friendship between the leaders, and relations between the US and England were greatly strengthened. And at the time, the play says, FDR and his distant cousin Margaret Stuckley (aka Daisy) were in the midst of an illicit affair.
I can accept the deviations from history that are inevitable in a film of this sort, especially when the charm of this cast is taken into consideration. If nothing else, this might nudge you to queue up Rushmore, as it reunites Murray and Olivia Williams, and even offers up a shot of Murray in a swimming pool.
Yahoo has the trailer. Hyde Park on Hudson opens on December 7.
In June 1939, President Franklin Delano Roosevelt and his wife Eleanor host the King and Queen of England for a weekend at the Roosevelt home at Hyde Park on Hudson, in upstate New York — the first-ever visit of a reigning English monarch to America. With Britain facing imminent war with Germany, the Royals are desperately looking to FDR for support. But international affairs must be juggled with the complexities of FDR's domestic establishment, as wife, mother, and mistresses all conspire to make the royal weekend an unforgettable one.