TV Bits: Donald Glover On 'Girls', Jesse Plemons On 'Breaking Bad', 'Arrow' Trailer
Today's TV Bits contains two noteworthy pieces of guest casting, as Troy Barnes goes to Brooklyn and Landry Clarke dips into the meth trade. Plus, there's a new trailer for The CW's Green Arrow series, and it piles on both drama and action. Hit the jump to read on.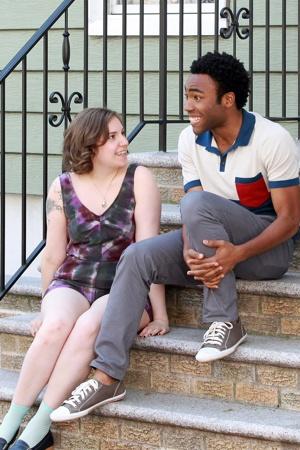 Dunham has previously responded to the controversy by telling press that the issue "will be remedied" in the second season. Bringing in the talented, lovable Glover is certainly a move in the right direction.
And speaking of brilliant guest casting choices...
Fresh off of a charming supporting turn in this weekend's deeply silly Battleship, Friday Night Lights star Jesse Plemons has signed on for a key recurring role on the fifth season of Breaking Bad. According to TV Line, Plemons is set to play Todd, "a dependable, innocuous, working-class guy" who "may not be what he appears to be." The FNL fan in me is hoping that Todd's deep dark secret is that he's moonlighting as the mega-successful lead singer of Crucifictorious, but, well, that's probably not the case.
As previously reported, Breaking Bad's final season will be split into two eight-episode chunks, the first of which will begin airing on AMC this July.
Yesterday's clip from The CW's Arrow showed that Oliver Queen (Stephen Amell) had rock-hard abs and crazy skills with a bow and arrow, but today's footage does a little more footwork to set up his backstory. And what a story it is: Oliver Queen has just returned to Starling City after years stranded on a desert island in the middle of the ocean, and decides to take on a secret crime-fighting identity in order to right his father's wrongs. It's like The CW spliced together Cast Away and Batman Begins.
[via Screen Crush]
In all seriousness, this new trailer does a much better job than that last video did of showing us what to expect, both in terms of premise and tone. So far, it looks like melodramatic fun. Arrow will debut this fall on the CW in the Wednesday 8:00 PM time slot.