'Sin City 2: A Dame To Kill For' Will Be Released In October 2013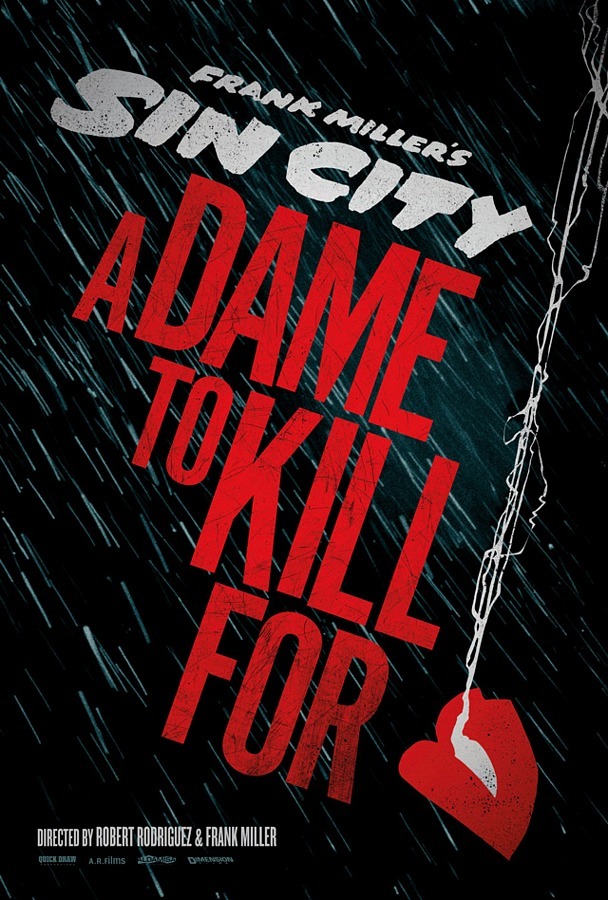 Dimension Films has announced an October 4th 2013 release date for their Sin City sequel Frank Miller's Sin City: A Dame To Kill For. Read the full press release after the jump.
FRANK MILLER'S SIN CITY: A DAME TO KILL FOR IN THEATERS NATIONWIDE ON OCTOBER 4, 2013
ORIGINAL CAST MEMBERS MICKEY ROURKE AND JESSICA ALBA RETURN FOR THE HIGHLY ANTICIPATED SEQUEL
New York, NY (14 May 2012) — Dimension Films announced today that the highly anticipated sequel FRANK MILLER'S SIN CITY: A DAME TO KILL FOR will open nationwide on October 4, 2013. Casting is underway, with original cast members returning to work with directors Robert Rodriguez and Frank Miller, from their script co-written by Academy Award® winner William Monahan . Academy Award® nominee Mickey Rourke and Jessica Alba are already confirmed to return.
The script and details of the film's story are being kept tightly under wraps. The remaining cast will be announced shortly with some huge names expected to fill the roles of Sin Ciy's newest characters yet to be seen on the big screen.
The original SIN CITY broke new ground with its iconic stylish look and grossed over $160 million worldwide. FRANK MILLER'S SIN CITY: A DAME TO KILL FOR will not only bring fans back to the world that Rodriguez and Miller created, but will also add a new dimension by bringing their unique visual style to life in 3D.
The film will be released by Dimension Films in the US and Canada, and produced by Quick Draw Productions, AR Films, Miramax and Solipsist.
Aldamisa International's C.O.O. Jere Hausfater and President of International Sales and Distribution Nadine de Barros and will oversee international sales for this project at the Cannes Film Festival.
The film is expected to begin production this summer at Robert Rodriguez's Troublemaker Studios in Austin, Texas.
About The Weinstein Company and Dimension Films
The Weinstein Company (TWC) is a multimedia production and distribution company launched in October 2005 by Bob and Harvey Weinstein, the brothers who founded Miramax Films in 1979. TWC also encompasses Dimension Films, the genre label founded in 1993 by Bob Weinstein, which has released such popular franchises as SCREAM, SPY KIDS and SCARY MOVIE. Together TWC and Dimension Films have released a broad range of mainstream, genre and specialty films that have been commercial and critical successes. TWC releases took home eight 2012 Academy Awards®, the most wins in the studio's history. The tally included Best Picture for Michel Hazanavicius's THE ARTIST and Best Documentary Feature for TJ Martin and Dan Lindsay's UNDEFEATED. THE ARTIST brought TWC its second consecutive Best Picture statuette following the 2011 win for Tom Hooper's THE KING'S SPEECH.
Since 2005, TWC and Dimension Films have released such films as GRINDHOUSE; I'M NOT THERE; THE GREAT DEBATERS; VICKY CRISTINA BARCELONA; THE READER; THE ROAD; HALLOWEEN; THE PAT TILLMAN STORY; PIRANHA 3D; INGLOURIOUS BASTERDS; A SINGLE MAN; BLUE VALENTINE; THE COMPANY MEN; MIRAL; SCRE4M; SUBMARINE; DIRTY GIRL; APOLLO 18; OUR IDIOT BROTHER; I DON'T KNOW HOW SHE DOES IT; SARAH'S KEY; SPY KIDS: ALL THE TIME IN THE WORLD IN 4D; MY WEEK WITH MARILYN; and THE IRON LADY. Currently in release are THE ARTIST; CORIOLANUS; W.E.; UNDEFEATED; and BULLY. Upcoming releases include THE INTOUCHABLES and PIRANHA 3DD. Recently wrapped was SILVER LININGS PLAYBOOK, and currently in production is DJANGO UNCHAINED.
TWC is also active in television production, led by former Miramax Films President of Production and current President of Television Meryl Poster, with credits including the Emmy® nominated and Peabody Award winning reality series Project Runway, spin-off series Project Accessory and Project Runway All Stars, the VH1 reality series Mob Wives, and the critically acclaimed HBO comedy/crime series The No. 1 Ladies Detective Agency which also received a Peabody Award. The company is currently in pre-production on the martial-arts epic Marco Polo for Starz as well as production on the second season of Mob Wives and the newest installment in the series' franchise Mob Wives Chicago. TWC additionally has 17 series in different stages of development, including The Nanny Diaries, being adapted for ABC by Amy Sherman Palladino (Gilmore Girls).
About Miramax
Miramax is a leading worldwide film and television studio with a library of more than 700 motion pictures. Miramax sells directly and licenses its titles globally through strategic partnerships including: Lionsgate, Netflix, Facebook, Hulu and StudioCanal. The Miramax library holds some of the world's most original and acclaimed independent films including Pulp Fiction, Shakespeare in Love, Chicago, Good Will Hunting, The English Patient, No Country for Old Men, Kill Bill Volumes I and II, Life is Beautiful Reservoir Dogs, Sex, Lies and Videotape, Cinema Paradiso and My Left Foot – as well as scores of commercially successful films such as Bridget Jones's Diary, Bad Santa, and the Scream, Hellraiser, Scary Movie and Spy Kids franchises. In 2011, Miramax released three new films including the critically acclaimed film The Debt, starring Helen Mirren and Jessica Chastain, directed by John Madden. Collectively, the Miramax library has received 284 Academy Award nominations and 68 Oscars, including four Best Picture awards.
Miramax is headquartered in Santa Monica, California with a sales office in London. For more information, please visit www.miramax.com, "like" the company on www.facebook.com/miramax, and follow Miramax on Twitter @Miramax.
About AR Films
AR Films was founded by Alexander Rodnyansky in 2009. Through AR Films, Rodnyansky controls one of the biggest film licensing and distribution corporations in Central and Eastern Europe, A-Company; the Russian film production company Non-Stop Production; a major distributor of independent films in Russia, Cinema Without Frontiers; and the most important film festival in Russia, Kinotavr.
Rodnyansky, a renowned documentary director, is also one of the most successful movie producers in Russia. His films have received critical acclaim from the leading international film festivals; the latest – Elena, directed by Andrey Zvyagintsev — received a Special Jury Prize at the 2011 Cannes Film Festival's Un Certain Regard, as well as more than a dozen international awards, including four Golden Eagle Awards from the Russian National Academy of Film. Elena most recently screened in the Spotlight section at Sundance 2012, and will be released in the U.S. in May.
AR Films' most recent projects are English-language films made in the U.S.: Jayne Mansfield's Car, co-written and directed by Billy Bob Thornton; and Goat Island, adapted and directed by DJ Caruso. Jayne Mansfield's Car made its world premiere at the 2012 Berlinale.
About Quick Draw Productions
In 2010, writer/producer/director Robert Rodriguez launched Quick Draw Productions, a development, production and financing company, giving the filmmaker capabilities to develop and produce his own media projects across film, television, gaming and interactive platforms while closely controlling the creative process.
About Aldamisa International
Aldamisa International was formed in 2011 by producer and attorney Sergei Bespalov. Aldamisa International and parent company Aldamisa Entertainment produce, acquire, finance and manage worldwide sales for a diverse slate of films. AR Films U.S. is party to a joint venture between the Bespalovs and producer Alexander Rodnysansky. Aldamisa International represents AR Films U.S.'s projects for sale worldwide.