The Best Liam Neeson Movies You Probably Haven't Seen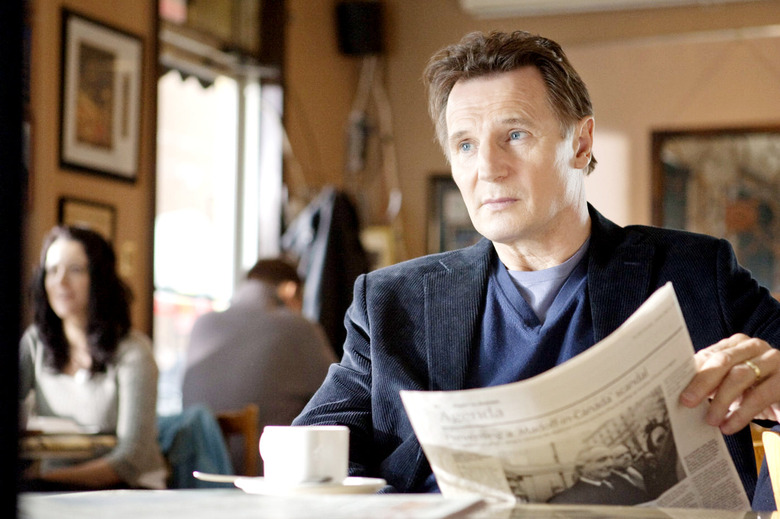 Everybody loves Liam Neeson. It's impossible not to. He's a badass, he's handsome, he's got the cool accent, he seems like a smart guy and he's starred in some of the best movies of the past quarter century. Even when he shows up for a quick and dirty paycheck like in Battleship it's hard to begrudge the guy. (Given the recent tragedy in his personal life, my inner Jewish grandmother says "it's good he should keep busy. And why not make a few dollars at the same time?")
I won't suggest that you skip Battleship this weekend. With friends and some smuggled-in tall boys of Coors Light you'll have a fine time. But don't expect that much Liam Neeson. In fact, it may leave you wanting more, so here are eight films of his you probably haven't seen.
Note – Darkman isn't on here. I'm giving you enough credit and assuming that you've seen that one already.
Excalibur (1981); John Boorman, director.
Correct me if I'm wrong, but this one hasn't caught on with the younger generation like some fantasy pictures of the era like Dragonslayer, The Beastmaster or the other one with Liam Neeson in it, Krull.
I think that may be because Boorman's Excalibur misrepresents itself a little bit – it isn't a traditional three-act story, more of a collection of Arthurian legends – and it is really long.
That doesn't mean it isn't marvelous, plus it features a laundry list of awesome English and Irish actors. Neeson plays Sir Gawain – one of the Knights of the Round Table, but not an important enough one to be seen in Monty Python and the Holy Grail. (He is killed offscreen by the rabbit.)
Excalibur didn't just give Liam Neeson his first major exposure, it was the film that brought Carl Orff's "Carmina Burana" into pop culture, as heard in the awesome trailer above.
The Bounty (1984); Roger Donaldson, director.
I will fully admit the fact that seeing this movie at the influential age of 9 perhaps gives it an emotional heft that may not exist up there on the screen, but I still say this is one of my favorite films of all time. (And one that made me a little bit obsessed with the days of British sail.) The mutiny on HMS Bounty is juicy yarn that has interested fascinated people for over two centuries, inspiring three feature films and a large shelf of books.
In this version (based on the research in Richard Hough's Captain Bligh and Mr Christian from 1972, which was considered the best book on Bountyania until Caroline Alexander's brillaint doorstopper The Bounty: The Story of the Mutiny on the Bounty) Mel Gibson is the privileged Fletcher Christian whose bestial passions are riled up by Tahitian sun to steal the ship from the bootstrapping, stern Captain Bligh. Liam Neeson plays the pugnacious, lower deck seaman Churchill, Christian's main muscle when the mutiny happens.
The Mission(1986); Roland Joffe, director.
This gorgeous film about the power of faith (and people who try to distort it) was a worldwide sensation upon its release. In it, Liam Neeson takes a break from the tough guy roles to play Jeremy Irons' pious junior missionary, which means doing a lot of walking around in the mud looking saintly and solemn.
Movie soundtrack nuts usually place Ennio Morricone's score way up on the list of essentials. I won't disagree, but the film itself is also a deeply nuanced work, and one of those rare things that actually shows (certain) men of the cloth as true heroes.
Next of Kin (1989); John Irvin, director.
See, the problem with Next of Kin was that it wasn't quite stupid enough to become a cult classic like Road House.
Country boy Patrick Swayze goes up against the big city mob, and spits out pithy sayings while doing it! Liam Neeson plays an Appalachian tough guy looking for vengeance. Ben Stiller, Michael J. Pollard, Bill Paxton and Adam Baldwin round out the cast. Yeah, you kinda have to watch this one immediately.
Husbands and Wives (1992); Woody Allen, director.
As Woody Allen and Mia Farrow were breaking up, Woody Allen decided to make a movie with Mia Farrow about breaking up. Musta been a lot of fun days on set.
This frenzied, hand-held, documentary style, middle aged cri de coeur picture was tremendously overshadowed by tabloid headlines at its release, but with 20 years (!) of distance we can now recognize it as one of Woody's better ones.
Liam Neeson plays Mia's handsome rebound boyfriend left out in the rain with his heart on his sleeve – he should know well enough to stay away from these screwy New York City dames!
Kinsey (2004); Bill Condon, director.
Forget that this movie is about sex. It is a fascinating portrait of how a man can become obsessed with this work, so much that he can destroy his personal relationships. It also casts a light on how a group of intellectuals can bond together and go a little insane when working closely on something they feel is important.
But, yes, it is also how American culture was terrified of erections just a few short years ago. Kinsey was nominated for a bunch of awards and made a bit of a splash – but I wonder if it ever got taken seriously beyond being a prurient biopic. If you have seen it, it may be worth a second look.
Chloe (2009); Atom Egoyan, director.
Well, I certainly have no doubt you've all seen certain clips from this erotic thriller, but the whole movie is pretty good, too.
Loosely based on Anne Fontaine's French film Nathalie. . ., Chloe elevates itself from its trashy premise with some innovative editing tricks, gorgeous interior design and some top notch performances. The heart is Julianne Moore, boiling teapot of regret and frustration, but Liam Neeson comes off as the world's coolest musicology professor.
The Good Mother (1988); Dennis Leonard Nimoy, director.
Okay, I'm not really sure this courtroom drama qualifies as a good movie. Frankly, I don't remember it much, but I'm pretty sure I saw it. Why am I including it?
BECAUSE SPOCK DIRECTED QUI-GON OMG WTF ROFLCOPTERS!!!!!!!!!!!
More Movies You Probably Havent Seen: