VOTD: 'Catfish' Directors Document Artist John Baldessari; Tom Waits Narrates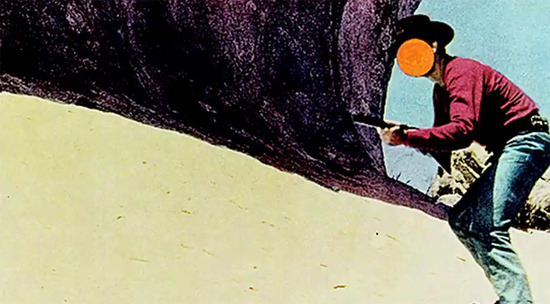 My favorite thing this week, without question,  is this short documentary about the artist John Baldessari, directed by Henry Joost and Ariel Schulman, the guys who made Catfish and Paranormal Activity 3.
A Brief History of John Baldessari is a wonderfully lively little doc that successfully straddles the line between providing info on the subject and establishing itself as a distinct work. The choice of music doesn't hurt, but really it is the narration from Tom Waits — his presence demanded by Baldessari, says the film –  that gives life to this short. Waits pronounces words in the same way that small animals burrow into the earth, and listening to him read this script is just a joy.
These are the credits:
The epic life of a world-class artist, jammed into six minutes. Narrated by Tom Waits. Commissioned by LACMA for their first annual "Art + Film Gala" honoring John Baldessari and Clint Eastwood.
directed by Henry Joost & Ariel Schulman (http://gosupermarche.com/)
edited by Max Joseph (http://www.maxjoseph.com/)
written by Gabriel Nussbaum (http://www.bankstreetfilms.com)
cinematography by Magdalena Gorka (http://magdalenagorka.com/)
& Henry Joost
produced by Mandy Yaeger & Erin Wright
Thank you to John Baldessari and his studio. (http://www.baldessari.org/)