'The Possession' Trailer: New Horror Full Of Great Old Curses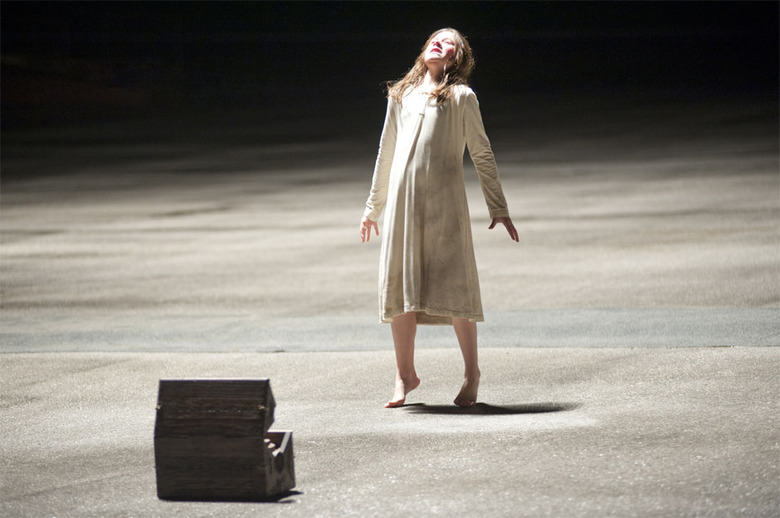 A whole lot of the supernatural horror/thrillers that have shown up in the past few years haven't been terribly inspired; the intersection between budget, ideas and real scares rarely seems to be at the right point.
But The Possession looks like it might be a bit different. Based on an LA Times article called 'Jinx in a Box' and originally titled Dibbuk Box, the film features Jeffrey Dean Morgan, Kyra Sedgwick, Madison Davenport and Natasha Calis in a story about a young girl who awakens an old evil. The title of the film may be all too generic, but the trailer actually looks quite creepy. And I'll say this: it's got a pretty great kicker shot.
So there's a solid grounding in family life here, with Jeffrey Dean Morgan coming across like a pretty grounded dad. But once the horror begins, there are some really lovely/horrifying visions there. The manifestations of evil are time honored, but displayed really well. And the x-ray scene is crazy, but restrained. There's some style here, and I'm happy to see a studio horror film that isn't only concerned with doing things on the cheap.
Yahoo has the trailer. The Possession opens on August 31.
Clyde and Stephanie Brenek see little cause for alarm when their youngest daughter Em becomes oddly obsessed with an antique wooden box she purchased at a yard sale. But as Em's behavior becomes increasingly erratic, the couple fears the presence of a malevolent force in their midst, only to discover that the box was built to contain a dibbuk, a dislocated spirit that inhabits and ultimately devours its human host.