Sequel Bits: 'Piranha 3DD', 'Thor 2', 'Avengers 2', 'Chronicle 2', 'Men In Black 3', 'Madagascar 3', 'Grown Ups 2'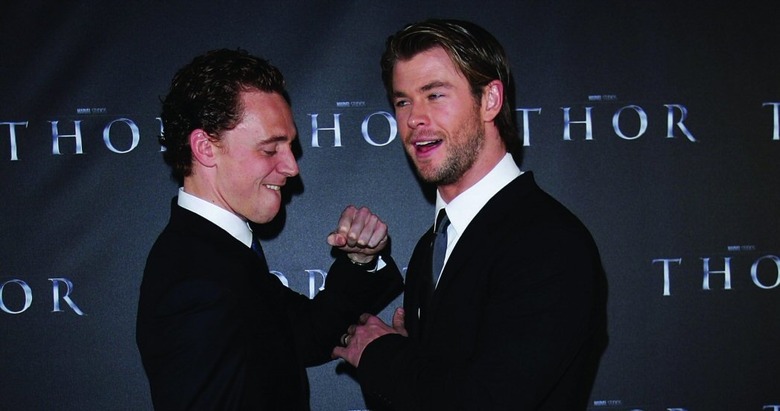 Bloodthirsty fish, show-offy zebras, superpowered brothers, and overgrown manchildren run wild in today's Sequel Bits. After the jump:
Josh Trank still not sure on Chronicle 2
Similarly, Joss Whedon undecided on Avengers 2
More Grown Ups 2 shooting news in New England
MIB3's viral campaign concludes with a final video
Chris Rock rocks out in a new Madagascar 3 clip
The Hoff features prominently in clips from Piranha 3DD
Chris Hemsworth spills about Thor and Loki's relationship
Happily, returning writer Max Landis has been a bit more forthcoming about the dirt on Chronicle 2. Click here to see some of his previous comments.
Similarly conflicted is the director of another of this year's superpowered hits. Although Joss Whedon's been fielding nonstop questions about the possibility of his returning for The Avengers 2, the filmmaker admits that he can't decide if he even wants to.
"You know, I'm very torn," he told the LAT Hero Complex. "It's an enormous amount of work telling what is ultimately somebody else's story, even though I feel like I did get to put myself into it. But at the same time, I have a bunch of ideas, and they all seem really cool."
The entire interview with Whedon is worth a read, particularly if you're the type of fan who's been dying to know which of his own works is really his favorite — head to LAT to see the rest.
Still more details have emerged on Grown Ups 2's shoot in New England. On Location Vacations reports that "they are ripping up the field at Phillips Park [in Swampscott, MA] and putting in an in-ground pool for the filming of Grown Ups 2," after weeks of deliberation between Swampscott and the production company. The pool shoot is rumored to last about a month.
On Location Vacations' scouts also have more details on shooting at other nearby locations, including Swampscott Train Station and Swampscott Middle School, as well as Gatchell's Playground, Seaside Park, and Marblehead Veterans Middle School in Marblehead. Whether you're hoping for a celeb sighting or planning to steer clear of construction, keep an eye on their site for more specifics.
With Men in Black 3's opening just a week and a half away, Sony has finally concluded its viral campaign for the movie. For those who haven't been keeping close track, the campaign kicked off a few months ago with ads directing fans to themeninblacksuitsarereal.com, supposedly the conspiracy theory website of one "Bugeyes." Well, after months of trying to spread the news about the mysterious black-suited figures, "Bugeyes" is becoming one himself. Watch the video below:
Men in Black 3 opens May 25. [via First Showing]
As Cannes kicks off, DreamWorks has unveiled a newclip from its Noah Baumbach-penned festival entry, Madagascar 3: Europe's Most Wanted. The animated threequel sees Alex the Lion (Ben Stiller), Marty the Zebra (Chris Rock), Gloria the Hippo (Jada Pinkett Smith), and Melman the Giraffe (David Schwimmer) taking up with the circus to travel to Europe so they can make their way back home to New York. But some of the gang seem to be better at blending in than others — ahem, Marty.
Madagascar 3 comes to U.S. theaters on June 8. [via Coming Soon]
The more we see of Piranha 3DD, the more ridiculous it looks — which, of course, is exactly the point. Three new clips have dropped today, offering an extra heavy dose of the Hoff and a tense moment with Doc Brown.
Piranha 3DD swims into theaters June 1. [STYD]
Though Thor's now faced off against Loki twice on the big screen, star Chris Hemsworth says the complicated relationship between the brothers is still far from resolved.
It's what I loved about the comics. It was never clean and cut and that's it. It was always like, Thor would forgive him, they'd be friends, and Loki would betray him again. 'You idiot, Thor! Really? Again?' But it was different than your normal good guy, bad guy scenario. They're brothers, you know? Anyone with siblings understands, you know, 'That's it, I'm never talking to you again', and then 'Hey, how's it going? Want to play football or something?'
However, Loki (played by Tom Hiddleston) has caused enough damage at this point that Hemsworth feels Thor's due an apology, or at least some sweet treats.
[Loki's] got to apologize, doesn't he? Baked goods. Muffins or something. That would be a bribe we could start off with. Beyond that, I don't know.
Thor 2 is coming together for a November 2013 release. [MTV]