Remake Bits: John Woo Redoes Japanese New Wave Classic 'Youth Of The Beast,' Plus 'Carrie' And 'Little Shop Of Horrors'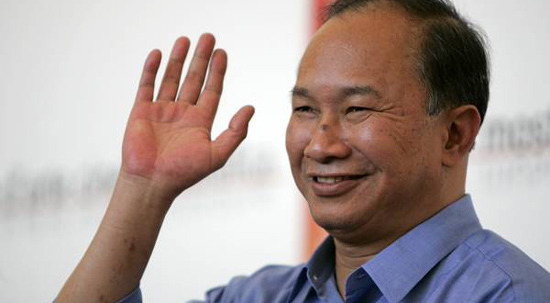 Typically, it's the French New Wave that gets all the news, but Japan had its own New Wave in the '60s, and one of the key players, whether he would have said as much or not, was Suzuki Seijun. The director worked for Nikkatsu studios, and in the '60s he started to crank out studio films that grew weirder with each release. One of the formative films in that period was Youth of the Beast, starring the chipmunk-cheeked Shishido Joe.
Though not as wild as some of Suzuki's later films, Youth of the Beast is a great, weird film. And now it will be remade by John Woo, who will call his version Day of the Beast. Rob Frisbee scripted, and Woo's long-time producer Terence Chang will produce. Ironically, while Nikkatsu eventually fired Suzuki for his increasingly eccentric films, this production is part of the studio's 100th Anniversary.
After the break, there's a trailer for the original Youth of the Beast, and we've got some news on the new version of Carrie, and one of the prime movers behind the original Little Shop of Horrors speaks about the new film version of that story.
This is the plot description of Youth of the Beast, which like many of Suzuki's great films, is available from Criterion.
When a mysterious stranger muscles into two rival yakuza gangs, Tokyo's underworld explodes with violence. Yaju no Seishun was a breakthrough for director Seijun Suzuki, introducing the flamboyant colors, hallucinatory images, and striking compositions that would become his trademark.
Next up, let's look to Carrie, the new film version of Stephen King's debut novel, to be directed by Kimberly Peirce (Boys Don't Cry). It already stars Chloe Moretz and Julianne Moore in the lead roles of the young, troubled telekinetic girl Carrie and her domineering, fundamentalist mother. Now Alex Russell (Chronicle) and Ansel Elgort (Regrets, an Off-Broadway production) are in talks to sing on, too.
Elgort will be in what is basically the William Katt role from the original film — a fairly nice guy who takes Carrie to the prom, where things go really wrong. Part of the reason they go so bad is the bullying attentions of a couple other kids, one of whom will be played by Russell. Is he in the John Travolta role? That we don't quite know, but he's definitely one of the jerks in the film. [Variety]
And there's that new version of The Little Shop of Horrors, produced by and possibly starring Joseph Gordon-Levitt, and written by Roberto Aguirre-Sacasa — who also scripted Carrie. It which will re-tell the story of a nerdy florist's assistant and the carnivorous plant-like alien he befriends. Frank Oz was instrumental to the creation of the original Roger Corman film version, and he approves of at least one aspect of the new version, as he told EW, "I think Levitt would be great as Seymour."
He also elaborated on his view of remakes:
The only reason for me to make a remake is if you have another take on it. I mean, I did Dirty Rotten Scoundrels as a [version of] Bedtime Story because I felt that what was there, we could make a little bit better. And I guess when they did the stage play of Dirty Rotten Scoundrels, they felt they could do a different take on that. And when I did Death at a Funeral, I know Chris [Rock] wanted to have it in such a way that the black community could see it, because it was [previously] all whites. Nobody from the black community saw [my version]. So if there's a legitimate reason, yeah. And if it's much better than the original or equally good, like the incredible Godfather Part II, that's stunning, then there's a reason to make it. But just because you own the property and "Hey, it's 20 years later, what the hell, let's just make it," no, that doesn't make any sense to me.