'Anchorman: The Legend Continues' Teaser Poster: Count The Legs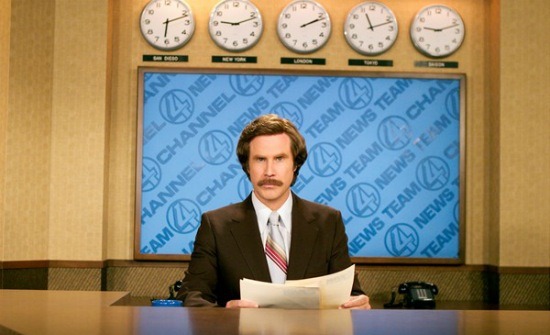 There is no real footage yet — hell, there's not even a script — but today Paramount is debuting a quick teaser for Adam McKay's often-discussed, once thought dead sequel Anchorman: The Legend Continues, and the studio has also cobbled together a teaser poster just for the occasion. At first glance this is a pretty straightforward line-up of the news team (Will Ferrell, Steve Carell, Paul Rudd, and David Koechner), but something seems to be missing. Either there's a deliberately awkward posing of the subjects here (likely), or someone has undergone some serious trauma. (Hopefully. Come on — that would be a lot more funny.) Check out the poster below.
All we know of the film at this point is what McKay recently told EW:
Right now I can say for sure there is no 'Ghost Rider' cameo or a scene where Ron fights a wolverine on a nose-diving helicopter. We're either going to shoot the movie in 3-D or 1/2 D.
OK, good to know. We'll pass along the teaser footage when it becomes available.