Help Make New Beverly Documentary A Reality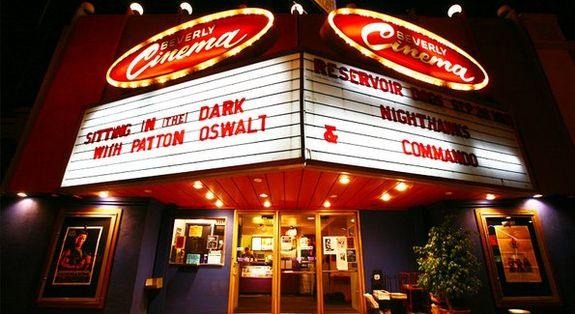 No matter where you live, you've likely heard of The New Beverly Cinema. It's a repertory house in Los Angeles, CA, partially owned by Quentin Tarantino, that has some of the best programming in the world: $8 double features, frequent Q&A, films programmed by famous filmmakers, Mondo events, you name it and the New Beverly has done it.
For example, tonight they're playing Dog Day Afternoon and Network. Over the next week they'll play Federico Fellini's I Vitelloni paired with films it influenced like Mean Streets, American Graffiti and Diner. Next week, a David Lynch retrospective begins. Come on now.
One of the theater's employees is raising money to make a documentary about the historic theater that'll hopefully ensure the theater stays around for years to come. But they need the help of film fans everywhere. The film is tentavely called Out of Print and you can read more about it, and donate to its KickStarter campaign, by clicking that link.
After the jump, check out the list of interviews lined up and more.
Julia Marchese, the employee and director of the film, has already lined up interviews with the following directors who are all frequent attendees and contributors to the theater.
Kevin Smith
Edgar Wright
Joe Carnahan
Rian Johnson
Joe Dante
Stuart Gordon
Patton Oswalt
Mark Romanek
Tom Holland
John Landis
Fred Dekker
Allison Anders
So what are you waiting for? Donate now. Here's the Kickstarter link again.
And here's a blurb about the film the film:
What would you give to preserve the rich history of cinema? Help us to preserve the cinema stories and experiences from the past century.When we lose the rich tapestry of roots, we lose something very important. Nostalgic is a vital, life-giving thing. My name is Julia Marchese and I am making a documentary that cherishes my favorite place in the entire world - The New Beverly Cinema.  At the New Beverly Cinema, a double feature still only costs $8. It's a nostalgic cinema going experience from a time long forgotten. At the New Bev cinema friendly staff greet you; their employees genuinely love film and more that happy to discuss the movies and to recommend an old flick that you really must see. Do you remember your first movie going experience? What was it like?This is an important documentary, a passion project that aims to protect and cherish your movie memories, by protecting revival cinemas like the New Beverly, which play a vital and important role in keeping the old memories alive and available in our rapidly changing world.??At the New Beverly, it's not about the money; it's all about the movies and the people who love them.??Here's the crazy thing, your movie memories are under siege and the threat is real and imminent. Revival theatres like the New Beverly are now an endangered species. We must act now to save the cinemas and protect our past.This documentary must be made and the time to make it is now. Why?The Major Studios (the owners of the old films) have recently written a letter promising to withdraw their 35mm prints. Last year I started a petition last year asking studios to let their film prints remain available to revival theaters indefinitely. I successfully raised 10,000 signatures from movie lovers in over 60 countries around the world.This documentary plus the support of movie lovers from around the globe, will petition the studios to see sense and to truly value the rich history of the cinema going experience. With your help we can preserve a little bit of our past and share it with the generations that are to come. Your donation will be allowing us to work with - and pay fairly - a crew that we know and trust, to use professional equipment, to produce quality feature length documentary that will screen at revival cinemas all around the world.We have passion and we have the talent, we just need your support.It's important, because your memories matter, not just to you but to the future generation of cinema lovers. The time to make this film is now.