Cool Stuff: Scott C's The Great Showdowns Will Be Released As A Book In October 2012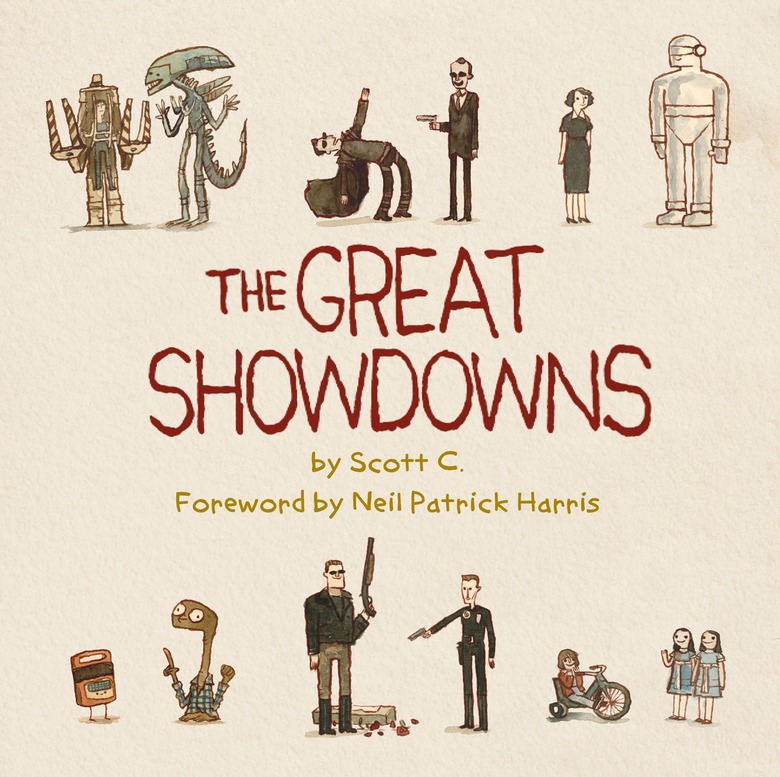 We may receive a commission on purchases made from links.
For years and years we've been featuring Scott C's artwork on the site. I'm a big fan of his watercolor paintings, and my girlfriend even commissioned Scott to do a painting for my last birthday (see it here — how awesome!?). Scott has been working on his Great Showdowns series for as long as I can remember, creating artwork showcasing some of cinema's greatest (and sometimes lesser known, cult) rivalries. Scott's Showdowns art has been showcased/sold at many different art shows across the country, and last year Gallery1988 finally held a solo "Great Showdowns" gallery show. This year, Titan Books and Gallery 1988 will publish a book of Scott's work titled "The Great Showdowns". I'm very happy to exclusively premiere the cover art. More information after the jump.
The Great Showdowns will be released in October 30th 2012 and will feature a forward from Neil Patrick Harris. Here is the full description:
Han vs Greedo. Chief Brody vs Jaws. Die Hard's John McClane vs broken glass. Scott Campbell's classic Great Showdowns series, showing strangely good-natured confrontations between your favourite movie characters, finally gets the book collection fans have been demanding!
"In this beautifully funny chronicle of the world's most momentous confrontations, there is only one true victor. And his name is Scott Campbell." – Edgar Wright
Scott Campbell (Scott C) is a maker of paintings, illustrations, comics, kid's books and video games. He studied illustration at the Academy of Art in San Francisco and has worked on such games as the critically acclaimed Psychonauts and Brutal Legend.  Alongside this career in games, he has published numerous comics and created paintings that have appeared in galleries and publications around the world. Some of his most notable projects include the Igloo Head and Tree Head series, Double Fine Action Comics, Hickee Comics and the Zombie In Love children's book. Scott lives in New York City.
You can preorder the 144-page hardcover book now on Amazon for around $10.