'Brave:' New Footage, Promos And Featurettes From Pixar's Latest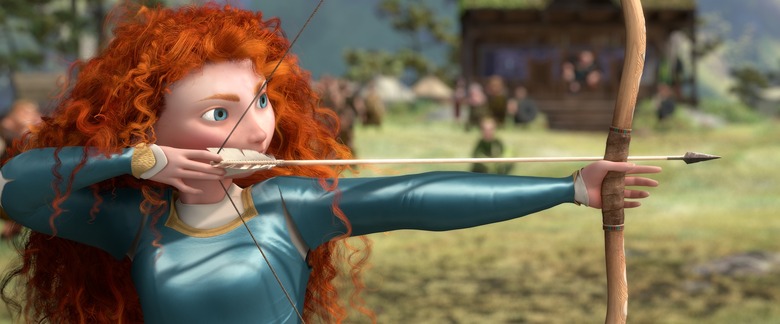 Now that Disney has successfully opened their first summer film, the focus can shift to Scotland where Pixar's latest film, Brave, takes place. Brave is about a rebellious princess named Merida who is so fed up with her mother, she makes a mistake that changes the fate of her kingdom. Featuring the voices of Kelly Macdonald, Billy Connolly, Emma Thompson, Kevin McKidd, Craig Ferguson, Robbie Coltrane and others, Brave opens June 22.
After the jump, we've got a glimpse at four new videos from the film including a clip, a promo for Mother's Day, a look at the video game and even a featurette on kilts.
First up, here's a clip from the film featuring Merida's triplet brothers. If you remember an earlier clip we featured with these characters, you can tell they're kind of obsessed.
Next up is a little reel in celebration of Mother's Day highlighting the tumultuous relationship between Merida and her mom, Queen Elinor. As you might have read in this interview with the film's producer, this is the relationship that has always been at the forefront of the movie at Pixar.
As the film is a period tale set in Scotland, kilts are obviously a very important part of the costuming. Pixar did a ton of research to make sure everything was just right. Here's a little taste.
Finally, Brave: The Video Game will be released on all consoles on June 19, just three day before the movie. Here's a trailer for the PS3/XBox360 version.
Brave opens June 22 and I'm really looking forward to it. How about you?
Source: Pixar Planet