MGM Developing Ray Bradbury's 'From The Dust Returned,' About A Boy Adopted By Ghouls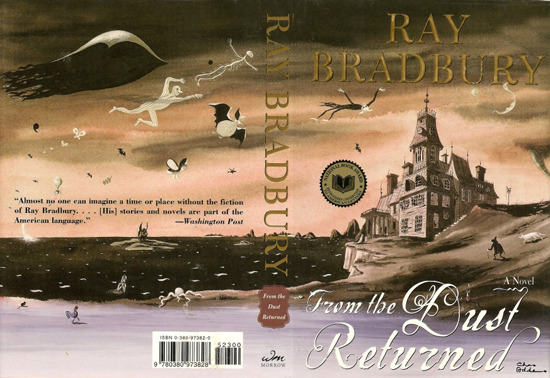 Ray Bradbury's work has been adapted for dozens of projects over the years. Most of those adaptations, however, are for short films and television; there are only a few feature films written by Bradbury or based on his work.
Producers keep trying to make Bradbury-based features, however. There has long been a version of The Martian Chronicles in development, for instance. Now Denise Di Novi and Alison Greenspan (The Lucky One, The Sisterhood of the Traveling Pants) are working with MGM to adapt  From the Dust Returned, which follows an orphan boy adopted by ghouls.
Di Novi and Greenspan also worked on developing The Illustrated Man, and while that hasn't yet happened, the pair's relationship with Bradbury led to this project. Here's a long explanation of the story collection:
They have lived for centuries in a house of legend and mystery in upper Illinois — and they are not like other midwesterners. Rarely encountered in daylight hours, their children are curious and wild; their old ones have survived since before the Sphinx first sank its paws deep in Egyptian sands. And some sleep in beds with lids. Now the house is being readied in anticipation of the gala homecoming that will gather together the farflung branches of this odd and remarkable family. In the past-midnight stillness can be detected the soft fluttering of Uncle Einars wings. From her realm of sleep, Cecy, the fairest and most special daughter, can feel the approach of many a welcome being — shapeshifter, telepath, somnambulist, vampire — as she flies high in the consciousness of bird and bat.
But in the midst of eager anticipation, a sense of doom pervades. For the world is changing. And death, no stranger, will always shadow this most singular family: Father, arisen from the Earth; Mother, who never sleeps but dreams; A Thousand Times Great GrandmÉre; Grandfather, who keeps the wildness of youth between his ears. And the boy who, more than anyone, carries the burden of time on his shoulders: Timothy, the sad and different foundling son who must share it all, remember, and tell...and who, alone out of all of them, must one day age and wither and die.
As producing partners Di Novi and Greenspan have done mostly adaptations of romantic lit and films that skew towards tween girls (New York Minute, Monte Carlo) but they do get movies made, and their films make money. (Though they also were a part of Catwoman, oof.) So while they might not seem like the obvious choice to make a Bradbury adaptation or two, it could work out in the end. [Deadline]