'The Campaign' Trailer: Will Ferrell And Zach Galifianakis Have Some Babies To Kiss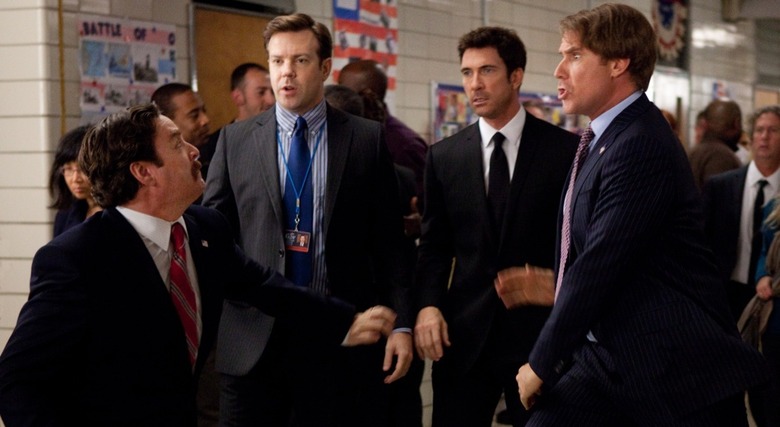 When real-life politics get ugly, it's depressing, but when fictional politics go negative, it's hilarious. After whetting your appetite with Monday's silly political ads, the first full-length trailer has been unveiled for Jay Roach's The Campaign. Zach Galifianakis and Will Ferrell star as rivals competing for a Congressional seat in North Carolina. As you can probably guess by that cast, it's not long before the race spins amusingly out of control. More details after the jump.
Head over to Apple to experience the HD version.
Although director Roach first gained notice for his work on broad comedies like the Austin Powers films and Meet the Parents / Fockers, in recent years he's become HBO's go-to guy for fictionalized takes on recent political events. Recount, which covered 2000's Bush v. Gore debacle, earned him an Emmy in 2008, and this spring saw the premiere of Game Change, which followed the McCain/Palin 2008 bid. The Campaign seems to combine both sides of his career into one entertaining (if not really groundbreaking) package.
Also starring Dylan McDermott and Jason Sudeikis, The Campaign opens August 10.
When long-term congressman Cam Brady (Will Ferrell) commits a major public gaffe before an upcoming election, a pair of ultra-wealthy CEOs plot to put up a rival candidate and gain influence over their North Carolina district. Their man: naive Marty Huggins (Zach Galifianakis), director of the local Tourism Center. At first, Marty appears to be the unlikeliest possible choice but, with the help of his new benefactors' support, a cutthroat campaign manager and his family's political connections, he soon becomes a contender who gives the charismatic Cam plenty to worry about.
As Election Day closes in, the two are locked in a dead heat, with insults quickly escalating to injury until all they care about is burying each other, in this mud-slinging, back-stabbing, home-wrecking comedy from "Meet the Parents" director Jay Roach that takes today's political circus to its logical next level. Because even when you think campaign ethics have hit rock bottom, there's room to dig a whole lot deeper.