'Red' Cast Returns For Sequel, Joined By Catherine Zeta-Jones And Lee Byung-Hun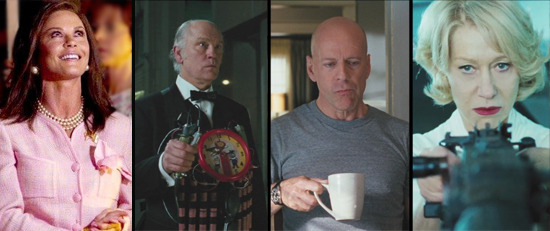 Red, the 2010 film that starred Bruce Willis, Morgan Freeman, Helen Mirren, and John Malkovich as aging black-ops agents, seemed like the sort of film that might just fade away. Directed by Robert Schewntke, who went on to direct R.I.P.D., the movie was neither bad nor particularly compelling — if it lived up to the promise of its cast and concept, it did so only somewhat.
But a sequel is still happening, and today Summit Entertainment sent out a press release announcing the return of major cast members for Red 2, with the addition of Catherine Zeta-Jones and Byung-Hun Lee (G.I. Joe: Retaliation).
Summit says that Bruce Willis, John Malkovich, Helen Mirren, and Mary-Louise Parker will all return for Red 2, which Dean Parisot (Galaxy Quest) will direct from a screenplay by Red writers Erich and Jon Hoeber. Lorenzo DiBonaventura and Mark Vahradian will produce.
Here's the important info Summit offers:
RED 2 brings back the team of retired CIA operatives as they use their old-school style to take on a new set of enemies all across Europe. The film is scheduled to be released on August 2, 2013.
I can't say I'm wildly excited about a sequel, though having the Galaxy Quest director on board does raise an interested eyebrow. (Parisot has more recently directed episodes of Justified, The Good Wife, and Modern Family.) Have to wait for footage on this one, but perhaps Parisot can find more life in the sequel.