Fox Renews 'Touch', 'American Dad', 'Family Guy'; Cancels 'Alcatraz' And 'The Finder'; Orders New Shows From Kevin Bacon And Mindy Kaling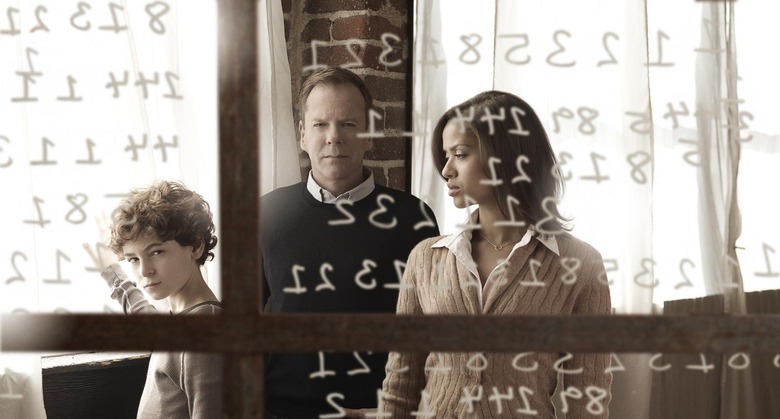 With TV upfronts just around the corner, broadcast networks have been scrambling to make some tough calls. Fox has now decreed the fates of its three freshman dramas, axing J.J. Abrams' Alcatraz and its Bones spinoff The Finder while re-upping on Kiefer Sutherland's Touch. On the animated side, American Dad and Family Guy are slated to return while Cleveland Show and Napoleon Dynamite continue to await a decision.
Meanwhile, the network has been loading up on brand-new pilots, including a serial killer thriller starring Kevin Bacon, a comedy from Mindy Kaling, the inanely-titled Mob Doctor, and more. Details after the jump.
Touch's renewal comes in spite of so-so ratings. While its debut episode was watched by 12 million viewers, last week's episode drew only 6.7 million. Other returning dramas on Fox include Bones and Fringe — but not mainstay House, which completes its eighth and final season this month.
Fortunately, Fox has a couple of intriguing new series that could replace the fallen dramas. The network has given a 15-episode order to The Following (formerly Mastermind), a thriller from The Vampire Diaries creator Kevin Williamson. James Purefoy stars as an escaped serial killer who inspired an entire cult of murderers during his time in prison, while Bacon plays the troubled FBI agent attempting to hunt them down.
Also expected to hit in the coming months is Mob Doctor, which stars Jordan Spiro as a young surgeon working at a prestigious Chicago hospital. A long-standing debt to the South Chicago mafia catches up to her, however, and she's forced to moonlight for them.
On the lighter, Seth MacFarlane-ier side of things, Fox has also renewed Family Guy for an eleventh season and American Dad for an eighth, but has pushed off a decision on a fifth season of The Cleveland Show until it sees how things work out for its fall schedule. Previously announced animate series renewals include The Simpsons and Bob's Burgers, while the jury is still out on Napoleon Dynamite.
In addition, the network has added three new (non-animated) comedies. Dana Fox's semi-autobiographical Ben & Kate (formerly titled Ned Fox is My Manny) centers around a single mom (Dakota Johnson) whose brother (Nat Faxon) moves in to help raise her new baby. Goodwin Games, from the How I Met Your Mother team (Carter Bays, Craig Thomas and Chris Harris) stars Becki Newton, Scott Foley, and Jake Lacy as siblings who receive an inheritance from their late father but have to agree to his terms. And It's Messy is the new title for Kaling's sitcom, on which she plays a Bridget Jones-type doctor struggling to balance her professional and personal lives.