'Wet Hot American Summer' Mini-Reunion Alert: Amy Poehler And Paul Rudd Board David Wain's 'They Came Together'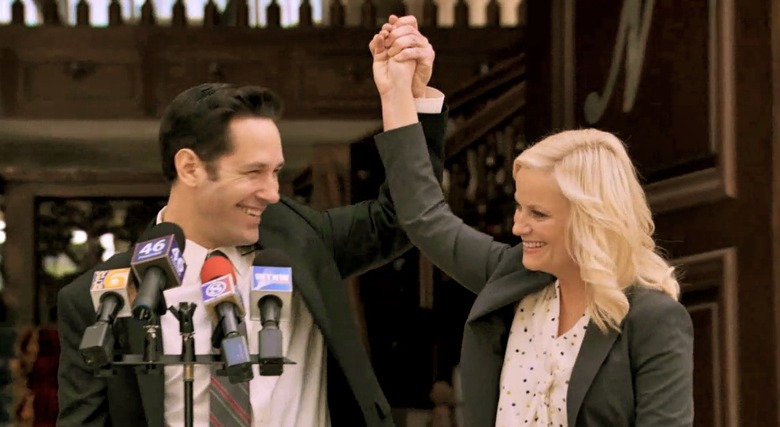 Until that Wet Hot American Summer sequel gets going — if indeed it ever does get going — we can comfort ourselves with the mini-reunion that will be They Came Together. The romcom parody, which is set up at Lionsgate's microbudget division, re-teams WHAS director David Wain and writer Michael Showalter with stars Paul Rudd and Amy Poehler. Hell, pull in a few more of the guys from The State and we can just turn this project into a secret WHAS sequel. More details after the jump.
The plot centers around Joel (Rudd) and Molly (Poehler), who despise each other right off the bat because Joel's big corporation threatens to put Molly's cute little knick-knack store out of business. But per romantic comedy convention, the pair soon fall into an on-again, off-again relationship. Along the way, they run into other staples of the genre, including "the jealous ex-girlfriend, the office jerk, scary in-laws, a boring dentist, a wise dog and beautiful shots of New York City in autumn."
To date, Rudd has appeared in all of Wain's feature directing efforts, including The Ten, Role Models, and this year's Wanderlust. Rudd and Poehler have crossed paths several times as well. This season of Poehler's comedy series Parks & Recreation has featured Rudd as in a recurring guest role as her character's political rival.
Rudd is enjoying a busy 2012. In addition to February's Wanderlust, he also has The Perks of Being a Wallflower and This is 40 due out this year, and he's just wrapped Phil Morrison's Lucky Dog with Paul Giamatti. Next up for him — in addition to They Came Together, that is — are Paul Weitz' Admission with Tina Fey, Errol Morris' Freezing People Is Easy, and the recently announced Anchorman 2. Poehler's Parks & Recreation finishes its fourth season this week, and her next cinematic appearances will be in Stu Zicherman's A.C.O.D. and Matthew Weiner's You Are Here.