Universal Bringing Clifford The Big Red Dog To The Big Screen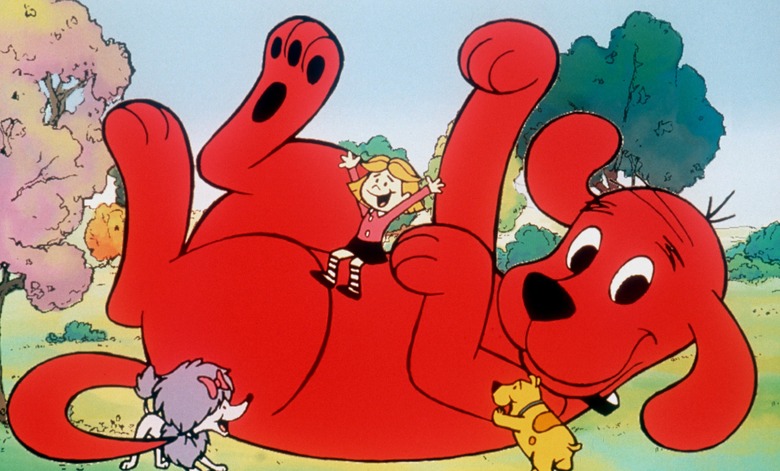 Having enjoyed quite a bit of success with their recent adaptation of Dr. Seuss' The Lorax, Illumination Entertainment and Universal are re-teaming to bring another beloved childhood figure to the big screen. The companies have just hired Matt Lopez (The Sorcerer's Apprentice) to pen a live-action/animation hybrid feature centered around Clifford, the big red dog. The unusual canine has been featured in some seventy-odd books since his creation in 1963 by author and illustrator Norman Bridwell. More details after the jump.
Though specific plot details have not yet been revealed, it's not terribly difficult to guess what the premise might be. As Louis C.K. points out in a hilarious anti-Clifford bit on Louis C.K. Live at the Beacon, all the Clifford books "tell the exact same story: 'Look how big this dog is.' That's the whole book." It seems like a pretty flimsy setup for a feature-length film, but then again, that didn't stop Universal from making tons of money on The Lorax.
Clifford has previously been adapted for an animated PBS series titled Clifford the Big Red Dog (2000-2003), in which the character was voiced by the late John Ritter. However, the new film marks Clifford's first time on the big screen. The timing couldn't be better, as next year marks Clifford's 50th birthday.
Lopez has built himself a solid career over the past few years as a writer of family films, with Disney's Bedtime Stories and Race to Witch Mountain under his belt. He's currently busy adapting another kids' book, The Dangerous Book for Boys, for Scott Rudin and Fox, and has worked on Universal's Asteroids.
[Source: THR]