Joss Whedon Writes An Open Letter To Fans Old And New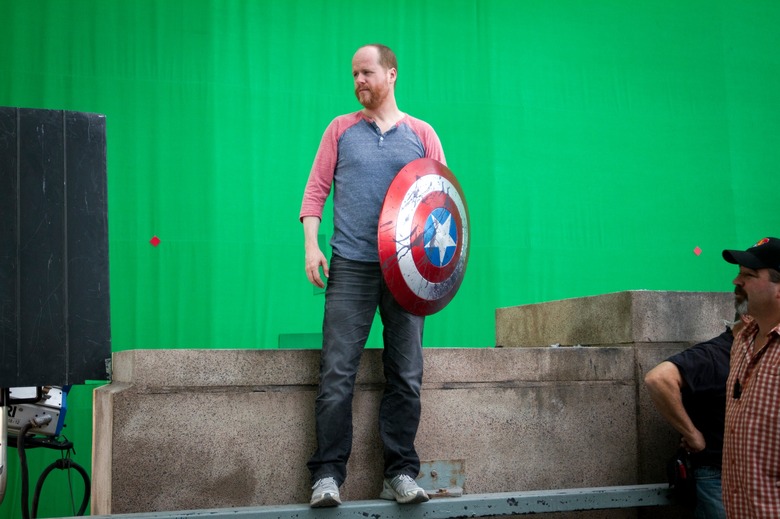 One of the reasons Joss Whedon has a wildly devoted fanbase is that he occasionally addresses that group directly, in familiar and funny language. There might have been reason to fear change in the wake of the massive success of The Avengers — in Hollywood terms, he's a much bigger deal now than he was two weeks ago — but now the writer/director has written an open letter to fans thanking them for their support, and explaining a bit of how Whedon is feeling in the wake of the film's success. There are some worrisome mentions — something about an Air Bud remake and a fondness for Jai Alai (he's living in mid-series Mad Men episodes?) — but it looks like everything will be fine for Whedon going forward.
Whedon gets a lot off his chest in the letter, opening with an admission, and a hope,
People have told me that this matters, that my life is about to change. I am sure that is true. And change is good — change is exciting. I think — not to jinx it — that I may finally be recognized at Comiccon.
He also gives hope for his next efforts,
There may be new ideas realized — I always leave myself open to that — but my commitment to Wastelanders and Dr H.2 does not waver. Those stories bubble on my stove.... I'm finishing "Much Ado About Nothing" this month. If you liked "the Avengers", you'll love... I can't. It's Shakespeare. And not in the park. I hope it gets watched.
He even gets serious:
What doesn't change is anything that matters. What doesn't change is that I've had the smartest, most loyal, most passionate, most articulate group of — I'm not even gonna say fans. I'm going with "peeps" — that any cult oddity such as my bad self could have dreamt of. When almost no one was watching, when people probably should have STOPPED watching, I've had three constants: my family and friends, my collaborators (often the same), and y'all. A lot of stories have come out about my "dark years", and how I'm "unrecognized"... I love these stories, because they make me seem super-important, but I have never felt the darkness (and I'm ALL about my darkness) that they described. Because I have so much. I have people, in my life, on this site, in places I've yet to discover, that always made me feel the truth of success: an artist and an audience communicating. Communicating to the point of collaborating. I've thought, "maybe I'm over; maybe I've said my piece". But never with fear. Never with rancor. Because of y'all. Because you knew me when. If you think topping a box office record compares with someone telling you your work helped them through a rough time, you're probably new here. (For the record, and despite my inhuman distance from the joy-joy of it: topping a box office record is super-dope. I'm an alien, not a robot.) So this is me, saying thank you. All of you. You've taken as much guff for loving my work as I have for over-writing it, and you deserve, in this our time of streaming into the main, to crow. To glow. To crow and go "I told you so", to those Joe Blows not in the know. (LAST time I hire Dr. Seuss to punch my posts up. Yeesh!)
The entire letter, complete with a jokey FAQ, is at Whedonesque.