Fox Picks Up Holiday Comedy 'Dear Satan' For The Farrelly Brothers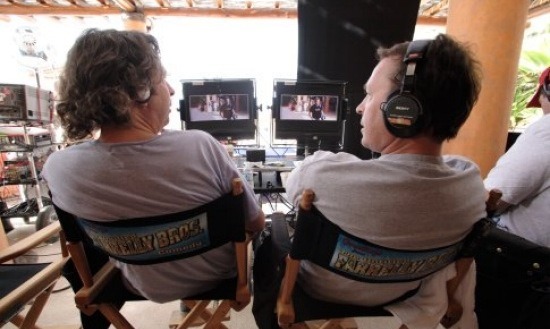 The Three Stooges may not have quite been the box office smash that the Farrelly Brothers were hoping for, but the writer / director / producer pair are pressing onward with another new project. Fox has just acquired a holiday comedy spec script by Dan Ewen titled Dear Satan for the siblings. It's unclear at this point if they'll direct, but the goofy premise sounds like it could be right up their alley. Read more after the jump.
"There was this cute little card, covered in candy canes and glitter," said Ewen. "I fell in love with the idea of this note mistakenly being delivered to the Prince of Darkness and the fiery wackiness that would ensue."
Neither Variety nor Deadline, who were among the first to break the news, mention whether the Farrellys will direct or just produce. The idea sounds like a fun and deeply silly one that'd click with their comedic sensibilities, so I'm hoping they're up for helming as well. Then again, the pair could decide they're too busy with their other upcoming projects, which include the long-in-the-works Dumb and Dumber sequel starring Jim Carrey and Jeff Daniels.
Ewen is fairly new to feature writing, though he's on his way up with multiple projects in various stages of development. One is Opposites Attract, a comedy about a man and a woman who switch bodies which has Kyle Newman (Fanboys) attached to direct. There's also his family comedy script Playing with Fire, which is in the works at Broken Road Productions. In addition, Ewen is currently at work on a screenplay for an American remake of the 2005 Bollywood hit Bunty aur Babli.