'Branded' Trailer - Jeffrey Tambor, Leelee Sobieski, And Max Von Sydow Expose Marketing As A Sinister Alien Plot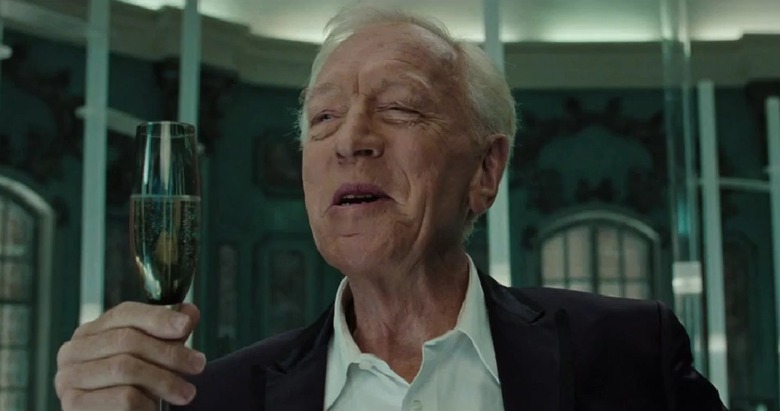 Maybe Mad Man Michael Ginsberg wasn't joking about being from Mars after all. The dystopian thriller Branded (a.k.a. Moscow 2017) takes as its premise the idea that corporate marketing is actually part of an evil plot to keep citizens dull and passive. And I don't mean "evil" as in simply greedy or dishonest a la Wall Street — I mean "evil" as in sinister, possibly alien, and probably even capable of literally demolishing the world.
Adding to the intrigue of this enjoyably cheesy-sounding film is its cast, which includes Jeffrey Tambor, Max von Sydow, and Leelee Sobieski, plus Ed Stoppard (Upstairs Downstairs) as the tenacious protagonist who seeks to uncover the truth. Watch the trailer after the jump.
Though this first trailer is dubbed over in Russian, Branded is actually an English-language film. But to be honest, I kind of enjoy the game of guessing what the screaming, worried looks, boardroom tentacles, and flying multi-colored brains are all about.
Co-director (with Alexander Doulerain) Jamie Bradshaw says marketing may just be the biggest ill facing modern society:
The most powerful weapon on earth today is not a gun or a disease, nor is it even visible to many. It is Marketing. Marketing is the power to control your desires and change your mind, and if you look closer there is something about it that is not of this earth.
And you can trust him on that, because he should know. Bradshaw and Doulerian are themselves marketing execs, you see. Bradshaw is the co-founder of Ignition Creative, while Doulerian is Chief Creative Officer of Russian TV network TNT.
Roadside Attractions picked up Branded last month, with the intention of rolling it out into theaters this September. Here's the official synopsis:
BRANDED is a dark and mind-bending journey into a surreal, dystopian society where corporate brands have unleashed a monstrous global conspiracy to get inside our minds and keep the population disillusioned, dependent and passive. One man's Misha (Ed Stoppard) passion to unlock the truth behind the conspiracy will lead to an epic battle with the hidden forces that really control our world.