TV Bits: '30 Rock' Nearing Renewal For Seventh And Final Season, Plus: 'Parks & Recreation', 'Community', 'Game Of Thrones', 'TRON: Uprising', And More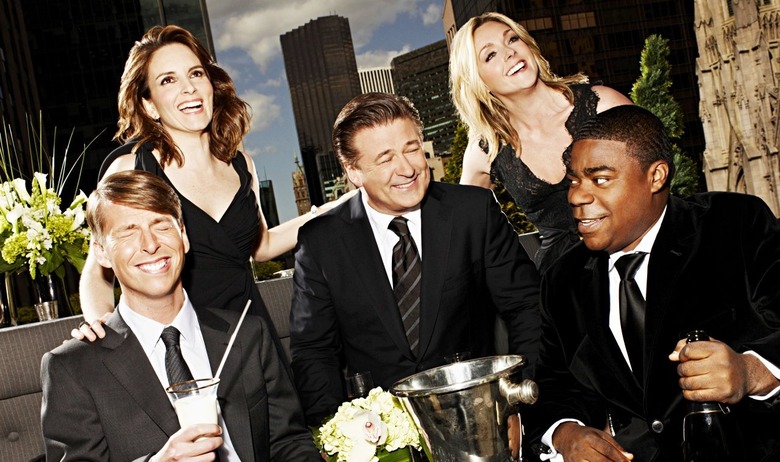 Fans of NBC's Thursday night lineup will want to keep a close eye on TV news in the coming days, as the network is nearing a seventh season renewal for 30 Rock. As for geek favorites Community and Parks & Recreation, let's just say the latter seems to have a better shot of coming back than the former. Also after the jump...
NBC picks up 1600 Penn and Animal Practice
USA's Political Animals picks up Dylan Baker
A synopsis for Game of Thrones' Season 2 finale
TRON: Uprising and Once Upon a Time producers take fan questions
As for the freshman series, Whitney is looking unlikely to return, while Up All Night is in search of a co-showrunner to replace Jon Pollack, who just moved to NBC's upcoming Go On. The fact that the network's actively looking for a new staffer is a good sign, as it suggests that NBC plans to stick with Up All Night.
At this point, you may be wondering what these new shows are that NBC's so concerned with. Well, in addition to Bryan Fuller's Hannibal, Matthew Perry's Go On, J.J. Abrams' Revolution, Ryan Murphy's The New Normal, and Anne Heche's Save Me, the network has also just given the green light to the First Family sitcom 1600 Penn and the vet comedy Animal Practice.
1600 Penn is created by actor Josh Gad (Book of Mormon), director Jason Winer (Modern Family), and former Obama speechwriter Jon Lovett, and will star Bill Pullman and Jenna Elfman as the POTUS and FLOTUS, respectively. Gad will star as Pullman's oldest son. Animal Practice features Justin Kirk (Weeds) as an abrasive vet who loves animals but hates their owners, and also stars Tyler Labine. Both 1600 Penn and Animal Practice have received 13-episode orders. [TV Line]
If the premise for 1600 Penn sounds vaguely familiar, that may be because of its thematic similarities to USA's Political Animals, which also revolves around the White House. Well, kind of — Sigourney Weaver stars as an ex-FLOTUS and current Secretary of State trying to recover from her failed marriage and failed presidential bid. The cast has just added Dylan Baker (The Good Wife), who'll play the vice president under President Paul Garcetti (Adrian Pasdar, Heroes). Baker's character Fred Collier is described as a sweet-seeming man with some dark secrets, and a "fierce combatant" of Weaver's character.
Baker joins a notable cast that also includes James Wolk, Sebastian Stan, Carla Gugino, and Ellen Burstyn. The six-episode drama kicks off July 15. [Deadline]
We've only just passed the halfway point of Game of Thrones' second season — this past weekend's episode was #6 out of 10 — but I know some of the truly eager are already looking ahead to the season finale. Screen Crush got their hands on the official description of the last episode of Season 2, titled "Valar Morghulis." (SPOILERS FOLLOW. If you don't want to know, please skip ahead to the next, non-GOT item.)
Episode #20: "Valar Morghulis"
Tyrion awakens to a changed situation. King Joffrey doles out rewards to his subjects. As Theon stirs his men to action, Luwin offers some final advice. Brienne silences Jaime; Arya receives a gift from Jaqen; Dany goes to a strange place; Jon proves himself to Qhorin. (Written by David Benioff and D.B. Weiss; directed by Alan Taylor.)
The episode will deal with the fallout of the events of the battle shown in the previous episode, "Blackwater" — one so epic that George R.R. Martin himself was brought in to pen the script.
Do you think that sounds like a fitting end to this crazy season? (End Game of Thrones spoilers.)
As ABC's Once Upon a Time winds down and Disney XD's TRON: Uprising gears up, producers Edward Kitsis and Adam Horowitz will be hosting a fan Q&A session on Wednesday, May 9 from 3:00 PM – 4:00 PM Eastern Time. Kitsis and Horowitz are the creators and exec producers behind Once Upon a Time, and serve as consulting producers on the upcoming TRON: Uprising.
As moderator, IGN's Eric Goldman will be selecting questions from Facebook to pass along to Kitsis and Horowitz. TV lovers who want to participate should go to facebook.com/OnceABC, facebook.com/Tron, or facebook.com/DisneyXD to join in and submit questions. The first half of the hour will be focused on Once Upon a Time, while the second will kick off with a three-minute sneak peek of the TRON: Uprising prelude "Beck's Beginning." In addition, a behind-the-scenes video from Once Upon a Time will start airing a half-hour before the Q&A, at 2:30 PM (Eastern Time).
Beck's Beginning will air on the Disney Channel Friday, May 18, followed by the debut of TRON: Uprising on Disney XD Thursday, June 7. The first season of Once Upon a Time ends Sunday, May 13. [Stitch Kingdom]