Photos: 'Dredd', 'Passion', 'Now You See Me', 'Les Misérables', 'Beautiful Creatures'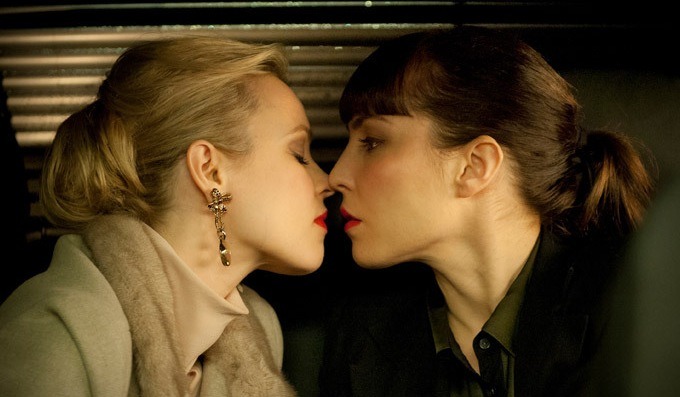 We have quite a mixed bag of new images for you today, covering everything from supernatural teen romance to comic book adaptation. After the jump, get a look at the sci-fi not-quite-remake Dredd, the YA adaptation Beautiful Creatures, Tom Hooper's star-studded Les Misérables, Louis Leterrier's magician heist flick Now You See Me, and Brian De Palma's steamy thriller Passion.
These days, Lena Headey is best known for playing Cersei Lannister on HBO's Game of Thrones, but the former Terminator: The Sarah Connor Chronicles star is returning to her sci-fi roots for Dredd. The "do-over adaptation" of the Judge Dredd comic book series sees Headey starring as prostitute-turned-gang-leader Madeline "Ma-Ma" Madrigal.
This isn't our first look at Headey in character, but this new close-up offers a better look at the vicious scars that criss-cross her face. Pete Travis directs the picture, which also stars Karl Urban as Judge Dredd and Olivia Thirlby as Judge Anderson. Head to LAT Hero Complex for more thoughts from Headey on her character.
Les Misérables has already shown us Hugh Jackman transformed into an ragged ex-con and Anne Hathaway morphed into a destitute factory worker. Now here's a look at London's Old Naval College muddied up to look like 1832 Paris, as well as another shot of Russell Crowe dressed as 19th-century policeman Javert. Also starring Amanda Seyfried, Samantha Barks, Helena Bonham Carter, and Sacha Baron Cohen, Les Misérables will hit theaters December 14. [via Twitter]
The race for the next Twilight is on, and one strong contender could be Warner Bros.' Beautiful Creatures. Based on the YA novel by Kami Garcia and Margaret Stohl, the supernatural romance follows a pair of South Carolina teens who are drawn together by their small town's mysterious secrets.
EW has unveiled the first photo of the attractive young couple, Ethan Wate (Alden Ehrenreich) and Lena Duchannes (Alice Englert). Viola Davis, Jeremy Irons, Emma Thompson, and Emmy Rossum comprise the supporting cast of the film, which is being directed by Richard LaGravenese. Beautiful Creatures will open February 15, 2013.
Before any of those Houdini-inspired projects come to fruition, Isla Fisher will be pulling off some daring escapes of her own in Now You See Me, as shown in this new photo. Fisher plays one of the Four Horsemen, a supergroup of illusionists who rob banks during their acts and distribute the stolen cash to their audiences.
Jesse Eisenberg, Woody Harrelson, and Dave Franco play Fisher's teammates, while Mark Ruffalo and Melanie Laurent play law enforcement figures trying to take them down. The thriller is slated for a January 18, 2013 release. [via The Playlist]
It's been five years since De Palma's last picture, but he clearly hasn't forgotten how to make an impression. The first still from Passion shows Rachel McAdams and Noomi Rapace leaning in for a sexy but uncomfortable kiss. Based on Alain Corneau's Crime d'amour, the thriller centers around the power struggle between two intenrational businesswomen. Here's the official synopsis, via The Playlist:
An erotic thriller in the tradition of "Dressed To Kill" and "Basic Instinct", Brian de Palma's PASSION tells the story of a deadly power struggle between two women in the dog-eat-dog world of international business. Christine possesses the natural elegance and casual ease associated with one who has a healthy relationship with money and power. Innocent, lovely and easily exploited, her admiring protégé Isabelle is full of cutting-edge ideas that Christine has no qualms about stealing. They're on the same team, after all... Christine takes pleasure in exercising control over the younger woman, leading her one step at a time ever deeper into a game of seduction and manipulation, dominance and humiliation. But when Isabelle falls into bed with one of Christine's lovers, war breaks out. On the night of the murder, Isabelle is at the ballet, while Christine receives an invitation to seduction. From whom? Christine loves surprises. Naked she goes to meet the mystery lover waiting in her bedroom...
Passion has not announced a release date at this time.