'Moonrise Kingdom' Behind The Scenes Featurette Allows Cast And Crew To Explain Wes Anderson's Latest Film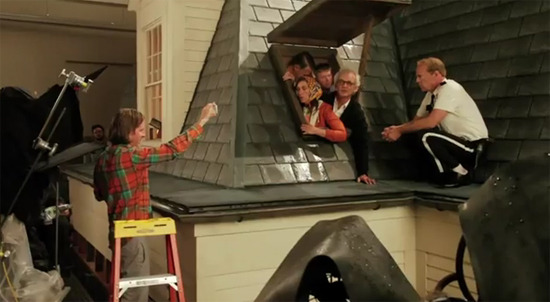 There isn't a lot of new footage from Wes Anderson's new film Moonrise Kingdom in the behind the scenes featurette that arrived today (there is some new stuff) but there are some really lovely shots of the director and crew at work. Various participants in the film, including co-writer Roman Coppola and actors Jason Schwartzman, Ed Norton, Bruce Willis, Bob Balaban, and Tilda Swinton, explain some of the basics of the film, giving up a few new character details as they do.
The really good stuff, from my perspective, is the sidelong view of some of the film's sets and locations. Anderson is such a meticulous stylist that there is a lot to see in his sets, and we get to see a couple of great glimpses of stuff built for the film in this featurette. We've seen some of this in the 20 minutes of behind the scenes b-roll that was released not long ago. But if you were worried about seeing too much of the film before the fact in that footage, this is the spoiler-free way to get a look at the set. Check it out below.
Moonrise Kingdom will play the Cannes Film Festival, and hits US theaters on May 25.
Set on an island off the coast of New England in the summer of 1965, MOONRISE KINGDOM tells the story of two twelve-year-olds who fall in love, make a secret pact, and run away together into the wilderness. As various authorities try to hunt them down, a violent storm is brewing off-shore — and the peaceful island community is turned upside down in more ways than anyone can handle. Bruce Willis plays the local sheriff. Edward Norton is a Khaki Scout troop leader. Bill Murray and Frances McDormand portray the young girl's parents. The cast also includes Tilda Swinton, Jason Schwartzman, and Jared Gilman and Kara Hayward as the boy and girl.