'Argo' Trailer: Ben Affleck's Ambitious '70s-Set Political Caper Thriller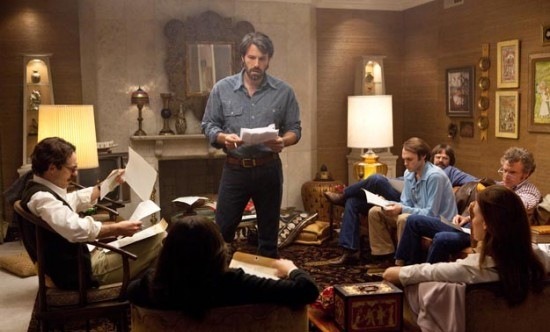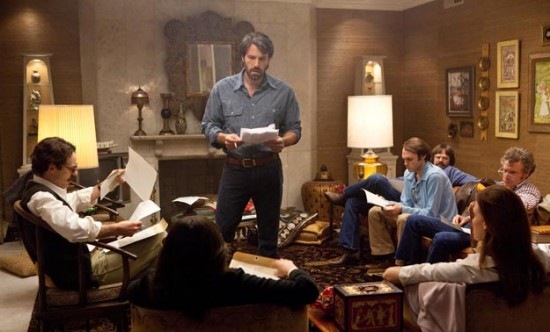 "This is the best bad idea we have, sir, by far."
Here's the trailer for Argo, Ben Affleck's third film as director. The film follows the efforts of an operation to rescue six diplomats hiding in Tehran during the Iranian revolution in 1979.  The trailer begins in serious political thriller mode before the real plan is revealed and it moves into an Oceans Eleven tone for a moment. But it swings back as the real importance of the mission becomes clear.
This trailer demonstrates that the material could really put Affleck to the test as he has to balance a tricky combination of tones and situations. But his cast is excellent:  Alan Arkin, Bryan Cranston, John Goodman, Zeljko Ivanek, Richard Kind, Scoot McNairy, Chris Messina, Michael Parks, Kerry Bishe, Kyle Chandler, Tate Donovan, Clea DuVall, Victor Garber, and Taylor Schilling. The footage looks great, and keeps this locked as one of our most anticipated movies of the year. Check out the trailer below.
Apple has the HD trailer. Argo opens on October 12.
Based on true events, "Argo" chronicles the life-or-death covert operation to rescue six Americans, which unfolded behind the scenes of the Iran hostage crisis–the truth of which was unknown by the public for decades. On November 4, 1979, as the Iranian revolution reaches its boiling point, militants storm the U.S. embassy in Tehran, taking 52 Americans hostage. But, in the midst of the chaos, six Americans manage to slip away and find refuge in the home of the Canadian ambassador. Knowing it is only a matter of time before the six are found out and likely killed, a CIA "exfiltration" specialist named Tony Mendez (Affleck) comes up with a risky plan to get them safely out of the country. A plan so incredible, it could only happen in the movies.