TV Bits: Dish Network To Drop AMC, IFC, Sundance, WEtv, Plus: 'Game Of Thrones', 'Southland', 'Borgias', 'The Simpsons'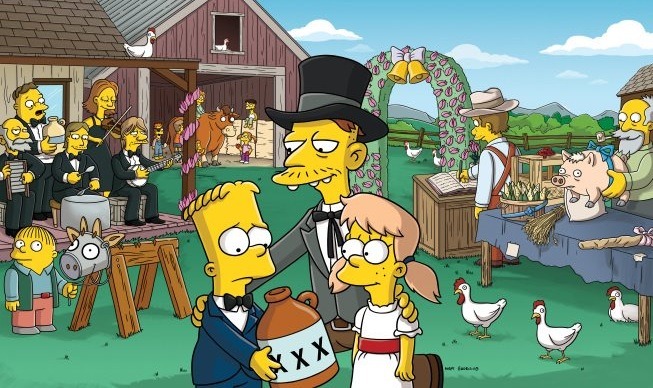 Though he's not even old enough to watch The Dark Knight Rises by himself, Bart Simpson's got the kind of ex-girlfriend roster most of us can only dream about — and many of them, including Zooey Deschanel, Natalie Portman, and Anne Hathaway will be back in his life for the upcoming 24th(!) season. Also after the jump:
Has HBO started casting for Season 3 of Game of Thrones?
TNT's Southland and Showtime's Borgias renewed
AMC orders two more murder mystery pilots
Dish Network will drop AMC, IFC, Sundance, and WEtv
"We thought it might be fun to borrow/pay homage to/steal an idea from High Fidelity and have him go on a romantic pilgrimage and visit the girls that he dated and try to figure out how the hell he screwed things up with each of them," says episode writer (and series consulting producer) Tim Long. Ultimately, however, Bart decides to head to New York City to reunite with the girl who might be the One. "Any resemblance between this episode and Breakfast at Tiffany's is completely coincidental," jokes Long. The episode will air this fall. [EW]
Though we're only at the halfway point of Game of Thrones' second season, HBO may already be prepping for Season 3. According to Winter is Coming, casting calls have gone out and auditions have begun for a handful of new characters. Rumor has it that the production is currently seeking actors to play Daario Naharis and Shireen Baratheon, and that Norwegian actor Kristofer Hivju is up for an unkonwn role.
(Mild spoilers follow, in the form of character descriptions.) One commenter claims that the production is seeking an 11-year-old girl to play Shireen, daughter of Stannis, while producers are open to men of "any ethnicity, except Caucasian" to play the mercenary Daario. Speculation on whom Hivju could be playing — if indeed the actor has auditioned — is wide open. WIC guesses Tormund Giantsbane, while Cinema Blend thinks it may be a Tully.
A couple of welcome renewals: TNT has picked up its acclaimed cop drama Southland for a ten-episode fifth season to bow in February, while Showtime has given a ten-episode third season to The Borgias. The Renaissance drama will conclude its current second season on June 17. [Vulture, EW]
AMC has given the green light to two pilots, both murder mysteries, which could debut in 2013. The first is Low Winter Sun, which has been gestating at the cable network for a little while now. Adapted frm a 2006 British miniseries, the "modern gothic" plot centers around two police investigators who murder a fellow officer whom they suspect of a crime. The American version has Chris Mundy on board to write and serve as showrunner, and will be set in Detroit.
The other is an untitled hourlong legal thriller by writer Richard LaGravenese (Water for Elephants, the upcoming Beautiful Creatures) and producer Tony Goldwyn (Justified) that promises "major political, personal and ethical stakes." The drama will aim to explore personal morality through the tale of a district attorney who's prompted by new evidence to reopen the investigation of a murder case. Goldwyn is set to direct the pilot. [Vulture]
Today's other bit of news regarding AMC is a little less upbeat. Dish Network Corp. has just announced that it will be dropping all of AMC Networks' channels, which in addition to its flagship AMC also include WEtv, IFC, and the Sundance Channel. The contract between the two companies is set to expire at the end of June — which falls after the end of the current Mad Men season, but before the start of the next Breaking Bad season.
According to Dish, it concluded that networks' ratings couldn't justify the rate increase that AMC Networks was asking for. Moreover, Dish says, it was was unhappy that shows like Mad Men and Breaking Bad were hitting outlets like Amazon.com, Netflix, and iTunes soon after airing on AMC — though AMC isn't the only network whose series go online soon after a cable run. Dish promises its 14 million subscribers that it will "make alternative high-value channels available to our customers as replacements."
For its part, AMC is insisting that the plans aren't about ratings or value, but about a separate lawsuit filed against Dish by Cablevision (then the parent company of AMC) back in 2008. After Dish dropped AMC's now-defunct Voom HD suite of channels, AMC sued Dish for $2.5 billion, citing a breach of contact. Last week, Dish lost its appeal of a pre-trial ruling that the company had destroyed evidence, and AMC believes Dish made its decision in retaliation. [LAT, Deadline]