Jonah Hill In Talks To Join Leonardo DiCaprio In 'The Wolf Of Wall Street'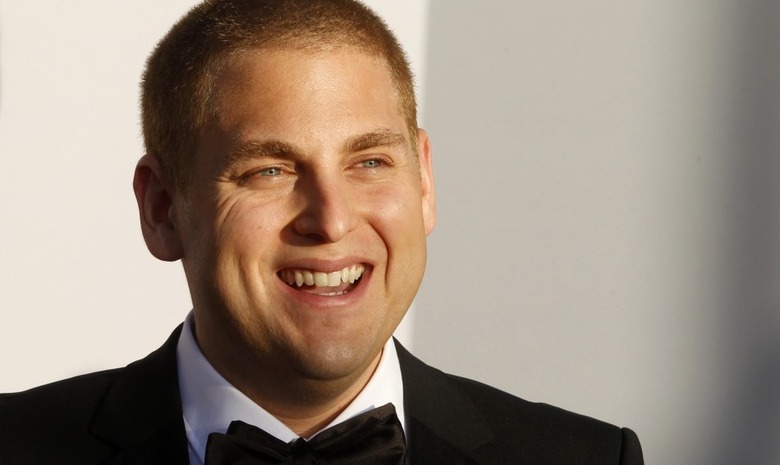 Even as he continues to make audiences laugh in films like the upcoming The Watch (formerly Neighborhood Watch), Jonah Hill is making progress on the more serious side of his career as well. The Oscar-nominated Moneyball star is in talks for Martin Scorsese's The Wolf of Wall Street, joining lead actor (and frequent Scorsese collaborator) Leonardo DiCaprio. If Hill keeps this up, he could become an even bigger dramatic star than he is a comedic one. More details after the jump.
Hill is currently shooting Evan Goldberg and Seth Rogen's directorial debut The End of the World (formerly The Apocalypse), and has the comedy The Good Time Gang, the drama True Story, and the animated sequel How to Train Your Dragon 2 lined up for the next couple of years. Production on The Wolf of Wall Street is expected to begin in New York City this August.
Here's a detailed synopsis of Belfort's book:
Belfort, who founded one of the first and largest chop shop brokerage firms in 1987, was banned from the securities business for life by 1994, and later went to jail for fraud and money-laundering, delivers a memoir that reads like fiction. It covers his decade of success with straightforward accounts of how he worked with managers of obscure companies to acquire large amounts of stock with minimal public disclosure, then pumped up the price and sold it, so he and the insiders made large profits while public investors usually lost. Profits were laundered through purchase of legitimate businesses and cash deposits in Swiss banks. There is only brief mention of Belfort's life before Wall Street or events since 1997. The book's main topic is the vast amount of sex, drugs and risky physical behavior Belfort managed to survive. As might be expected in the autobiography of a veteran con man with movie rights already sold, it's hard to know how much to believe.