'Neighborhood Watch' Retitled 'The Watch,' See The New Red-Band Trailer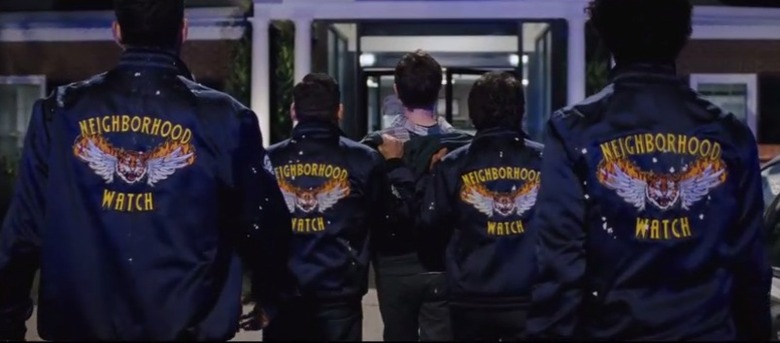 When the killing of Trayvon Martin by George Zimmerman, an enthusiastic neighborhood watch participant, became national news, Fox pretended to be unfazed by the effect the story might have on its sci-fi comedy Neighborhood Watch. The film is directed by Akiva Schaffer of The Lonely Island, and stars Ben Stiller, Vince Vaughn, Richard Ayoade, and Jonah Hill as, well, overly-enthusiastic neighborhood watch participants who stumble on a world-threatening event. The studio pulled early marketing materials for the movie, but in general acted like not much else would change.
But the Trayvon Martin case has continued to be a national, even international subject of discussion. And so Fox has changed the name of the film to The Watch, and released a red-band trailer to wipe away our memories of the first title. Check out that trailer below.
The Watch opens on July 27. IGN has the trailer. Here's the statement Fox released today:
LOS ANGELES, (Friday May 4, 2012) – Twentieth Century Fox launches the next phase of its marketing campaign for the summer comedy THE WATCH in raucous style – with a red band trailer debuting today on IGN.COM.
The trailer presents the first unexpurgated look at the R-rated shenanigans of Ben Stiller, Vince Vaughn, Jonah Hill and Richard Ayoade.
THE WATCH is the new title for "Neighborhood Watch."  As the subject matter of this alien invasion comedy bears no relation whatsoever to the recent tragic events in Florida, the studio altered the title to avoid any accidental or unintended misimpression that it might.
THE WATCH lands in theaters everywhere on July 27, 2012.  The film is directed by Akiva Schaffer, written by Jared Stern and Seth Rogen & Evan Goldberg and Justin Theroux, and produced by Shawn Levy and Michael Ewing.