TV Bits: David Cronenberg To Guest-Star On Syfy Sci-Fi Series, Plus: Zombies, Michael Bay, 'Breaking Bad', 'Dexter', 'Mad Men', Arrow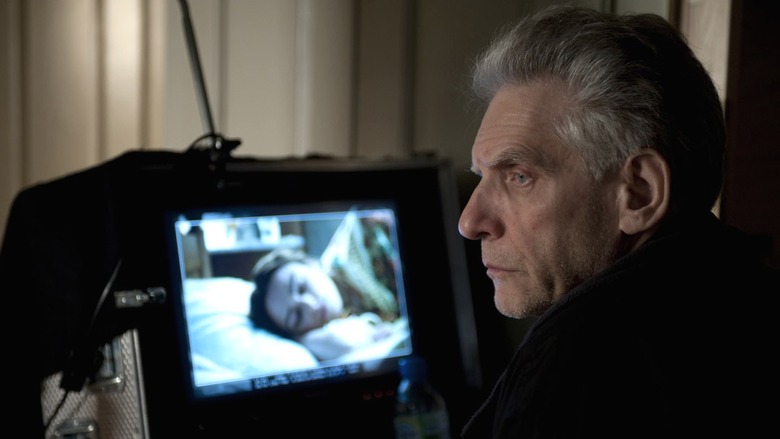 Two big-shot feature filmmakers are headed to the small screen, albeit in two very different capacities. Michael Bay will executive produce Starz' pirate adventure Black Sails, while David Cronenberg is set to guest star on Syfy's time-travel thriller Rewind. Also after the jump:
Go behind the scenes of Breaking Bad's fifth season
The first set photo from Season 7 of AMC's Dexter drops
The CW's Arrow is virtually "a lock" for pick-up
January Jones says to expect more "Fat Betty" on Mad Men
The BBC orders a brand-new zombie drama
David Cronenberg doesn't just direct sci-fi thrillers — sometimes he guest-stars in them, too. The famed director has just signed on to appear on the new Syfy action series Rewind, about scientists and military field operatives who travel back in time to try and prevent a horrific terrorist attack. Cronenberg will play a Nobel Prize-winning scientist who hasn't quite been the same since his wife passed away years ago, and is now preparing "a dangerous plot that will alter the course of history." Perhaps it will be a good companion role to his work in Jason X and Nightbreed.
Also set to guest on the series is Jeff Fahey (Frank Lapidus on Lost, among other things), while Shane McRae, Keisha Castle-Hughes, Jennifer Ferrin, Robbie Jones, and Keon Mohajeri comprise the starring cast. Production on the 90-minute pilot has begun in Toronto. [Coming Soon]
A new video from the Breaking Bad set goes behind the scenes of Season 5, though sadly there don't seem to be any spoilers or even hints of spoilers in sight. Thankfully, stars Bryan Cranston and Aaron Paul are charming enough to keep things lively anyway.
The first eight episodes of Breaking Bad's fifth season will begin airing this July, while the final eight will hit in 2013. [Cinema Blend]
Dexter star Jennifer Carpenter has tweeted the first set photo from the upcoming seventh season, boasting "Oh man... We're gonna get you guys this year!!!" Unfortunately, the new image doesn't give away much — it seems to just be an outside shot of the apartment complex where Dexter (Michael C. Hall) lives.
What we do know is that Season 7 will feature (some spoilers follow, of course) one scary recurring character played by Ray Stevenson, a "high-ranking member of an Eastern European crime ring who arrives in Miami determined to learn who killed one of his associates." And that it'll return to Showtime Sunday, September 30. [via Screen Crush]
This weekend belongs to the Marvel fans, but there's a bit of good news for DC devotees as well. THR writes that Arrow, an adaptation of DC's Green Arrow character, is considered "a lock" for a series order from The CW. That won't be made official until the broadcast networks' upfront presentations begin in about two weeks, but between The CW's need for new original dramas and desire to bring back Smallville fans, it seems very likely that we'll be seeing Arrow hit the airwaves in the coming months. [via Blastr]
If you've been following Mad Men this season, there's no way you avoided noticing that the former Mrs. Betty Draper isn't quite as svelte as she once was. Actress January Jones, whose real-life pregnancy led to Betty's scaled-back involvement in the current season, says so-called "Fat Betty" won't be going away anytime soon.
"She's not gonna just lose weight over a period of a couple episodes, so, yes, she's still heavy," she said. Jones noted that the weight gain may make Betty a bit more sympathetic than she used to be. "I don't know if she's nicer, but people sympathize with her more," Jones continued. "She's a little more emotional." [Vulture]
I hope you're ready for more small-screen zombies, because the UK is about to send a bunch more your way. The BBC has just commissioned In the Flesh, a zombie drama from writer Dominic Mitchell. The series will consist of three 90-minute episodes to air on BBC Three, and actually sounds like an unexpected twist on the zombie subgenre:
His script begins after the Zombie Uprising has been quelled by the Human Volunteer Force and life is starting to return to normal. Any surviving zombies have been captured, medicated, held in an NHS holding facility in Norfolk and are being slowly re-integrated back into society, with the help of contact lenses and cover up mousse. The story follows teenager Kieran Walker and boldly goes where no zombie drama has gone before.
Yeah, makeovers are definitely a new spin on the zombie tale. Curious to see how this one turns out. [BBC via Blastr]