'Tarzan' Returns, As A Mo-Capped Kellan Lutz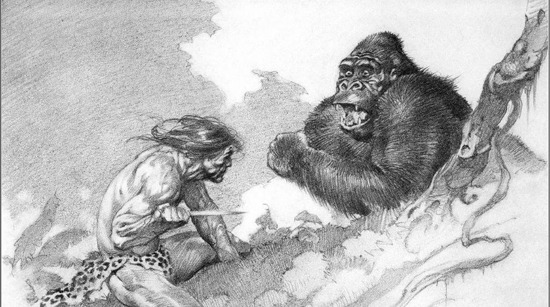 Briefly: How do you like your Tarzan? On the page? Maybe in old serial adventure form? Since I saw Greystoke: The Legend of Tarzan as a kid, I'm still a bit partial to the serious live-action thing — the Batman Begins version of Tarzan — but maybe you like the Disney animated version. No matter what the answer is, I'm not sure how people will respond to a CG animated version in which Kellan Lutz (Twilight) will perform a mo-capped version of the old Edgar Rice Burroughs character.
There are some updates: Tarzan's parents are killed in a plane crash, and ultimately the jungle-raised guy comes up against the new CEO of Greystoke Energies, an oh-so modern villain, who even has a mercenary army. Jane will likely be played by Spencer Locke (Resident Evil, Detention), and the character is the daughter of an African guide, and an avid conservationist.
Reinhard Klooss will direct; he wrote with Yoni Brenner and Jessica Postigo. Constantin Films, which produced the Resident Evil films and the recent The Three Musketeers, is making this one, so that should clue you in on what to expect. [THR]