Early Buzz: Reactions From The First Test Screening For Alfonso Cuarón's 'Gravity'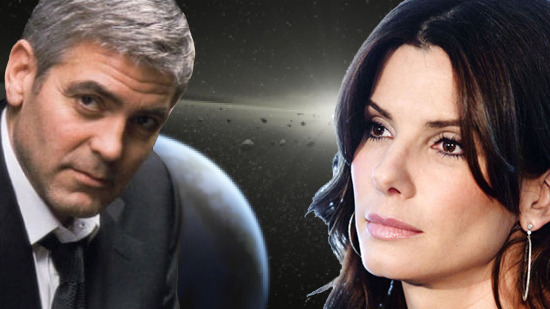 The expectations are sky-high for Alfonso Cuarón's Gravity, the director's first film since 2006's Children of Men. In fact, between the A-list cast (Sandra Bullock and George Clooney), its intriguing sci-fi premise, its ambitious long shots, and gushing praise from colleagues like Guillermo del Toro, we have plenty of reason to believe the film could be his most brilliant yet. On the other hand, this wouldn't be the first time we've been dead wrong about a movie this early on.
This week in Pasadena, Gravity had its first test screening, and while the cut was apparently very rough, audiences saw enough to form some strong opinions about it. From here, it sounds like it could be this year's Tree of Life — gorgeous, innovative, worthy of acclaim, and perhaps a little divisive. Hit the jump to see some reactions.
VERY unfinished but heard it's visually ambitious, interesting but not world-changing.
The Film Stage's Jordan Raup, wasn't present either, but the reactions he heard were more wholeheartedly positive:
Despite rough FX, hear good things about last night's Gravity screening. "Masterpiece, phenomenal, visually amazing." We'll see in 200 days.
Not everyone was a fan, though. Briana Hernandez was blunt and harsh in her assessment:
Worst movie ever! #gravity
David Vendrell was more measured in his criticism:
Went to a test-screening for "Gravity" last night...it was far from being done, but it will be a visual feast when it is...and nothing more.
Happily for us Cuarón fans, Hernandez and Vendrell seem to be in the minority. A couple of more in-depth reviews were nothing short of glowing.
The Film Experience recapped the reaction of one of its readers who'd attended the screening:
Gravity is Cuarón's masterpiece. It's gonna be divided. Half will think it's a self-indulgent borefest and half will think it's amazingly brilliant. The movie is 80% just Sandra Bullock!
In addition, the anonymous lucky bastard called Cuarón "insanely monumental," and predicted several Oscar nominations — especially for Bullock, who landed the lead after a messy casting process that saw folks like Angelina Jolie and Natalie Portman falling away:
He went on to say that he thinks its her best work, particular in the final fifteen minutes (from which he assumes they'll draw an Oscar clip should that time come) but that the film is Cuarón's. He called likely nominations for Visual Effects, Picture, Director, Editing ("breathless" action), and Cinematography which he calls "amazing". Regarding the latter, though, did anyone expect less from eternal Oscar bridesmaid Emmanuel Lubezki (The Tree of Life, Children of Men) and Michael Seresin (Midnight Express)?
AICN's guy on the inside was, if anything, even more entranced by the film than the Film Experience person had been, calling it "a fucking masterpiece":
This is not just next level shit, this is several levels ahead of next level shit, & quite possibly the highest level shit you could possibly make. This is like if Avatar had been released in 1927 a week after The Jazz Singer. People won't know how to comprehend what they are seeing. In short, Gravity genuinely makes you feel like you have been to space. It really, really does. And guess what? It's beautiful, and awe-inspiring, and profound (and a little scary too), everything you thought it would be since you first thought about going to space when you were a kid. The movie exploits dreams it knows every sentient being has had, using the best special effects I have personally ever seen. I honestly don't know how you could enhance a cinematic experience more. I kept waiting for a cameo from the Tupac hologram.
But by the way the film is shot, you feel hopeless. It has some of the best uses of first person POV shots I've ever seen, making you feel like you too are hovering right over the Earth, so close yet so far away. Other than Enter the Void, I don't think I've ever felt more physically embodied as an onscreen character. It's not POV the whole time though, Cauron breaks it up & often utilizes his signature 'roaming-cameraman-who-never-cuts' technique, which is very effective when there's no gravity & for the 'race-against-the-clockiness' of the story. However, some people might end up saying that Gravity ends up being too light on story & is just an expensive space roller coaster ride, 'Space Mountain: The Movie' if you will. But those people would be wrong, stupid & ungrateful. Gravity is an important & subtle character study wrapped up in the guise of the most technologically advanced film of the new millennium. Sandra Bullock's character has no family down on Earth. No friends. Her job is up in space. She's struggling to get back to survive, but in truth, she doesn't have much to live for down on that planet, so why even go through the effort? To me the film is about apathy and isolation. It's about people today not knowing why they should be excited about living but only knowing they don't want to die. It's about looking at your own insignificance in the universe (or on Earth, or at your job, or at your school, etc.) & becoming empowered by it instead of defeated. And most of all, it's about seeing what it would be like to float through space like an astronaut (spoiler: it's fun).
You can head to AICN for the rest of "Stanley Boobrick"'s lengthy review, which goes into more specifics about the plot and the FX.
Over at the Awards Daily Forums (via TFS), "clearwatergirl" also had a forcefully positive opinion:
I still can't believe what a great movie this. Wow!!! I don't think anyone will doubt Sandra again after seing this. what a performance!
Sandra was amazing and I think this will be an easy nomination for her. [...] As great as the directing and music was throughout, there is no way the movie could have worked so well if she wasn't up for the task. I don't think she has ever been more pyshical or vulnerable on screen and she did very well in the quiet, dialogue free moments. It's a great vehicle for her.
Overall I thought it was a very suspenseful and engaging movie. Even with the extremely long takes it never dragged or became boring in my opinion.
Early reactions like these always need to be taken with a bit of caution, since 1) we don't really know the cinematic tastes of all of these people, and 2) there's still a lot that could change between now and the film's release. Nevertheless, this is an encouraging start. Sounds like we've got something to really look forward to when Gravity hits November 21.